We Helped a Senior Living Community Generate an Extra $61,000 in Monthly Revenue — Here's How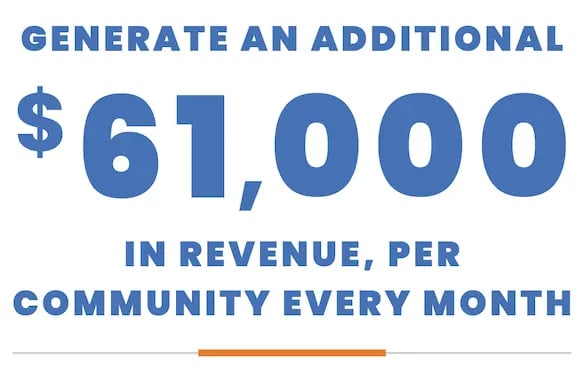 Navigating the senior living world can feel like walking a tightrope. Communities are constantly juggling between providing heartfelt care for their older adults and keeping the financial gears turning smoothly. It's a delicate balance, and every decision can sway the scale.
Along comes the twists and turns — evolving health care demands, managing a diverse range of communities from cozy independent living spots to specialized memory care havens. It can get overwhelming.
Then Eldermark steps in. Think of us as your trusty guide, lighting up the path for senior living communities. We're not just showing the way. We're helping communities boost their revenue while making sure the care stays top-tier.
In 2022, we helped one of Minnesota's top senior living communities generate an impressive $61,000 of additional monthly revenue in each of its 33 locations — that's an extra $22 million year over year. We'll explain how we did it below.
Want a more detailed account? Check out our eBook: How to Generate an Additional $61,000 in Revenue, Per Community, Every Month.
Who is Eldermark?
We're not just another tech company — we're a change-maker in the senior living space that's not about cold codes and software. Eldermark is all about warm, real-life connections that help bring together communities, caregivers, loved ones, and residents.
A core piece of what we do is our unique Business Model Design consultation — our blueprint that helps ensure senior living communities don't have to choose between caring for older adults and making ends meet.
In short, our Business Model Design consultation takes a look at what care and services a community provides to their residents, and ensures that pricing is correct and constantly updated as care plans change.
Imagine if just 25% of care services at a community were underpriced or pricing didn't keep up with changes in resident acuity and care needs. That's thousands of dollars in revenue leakage, and our experts typically see a much higher rate of incorrect pricing models than just 25%!
The Eldermark platform is a growth engine that helps senior living communities optimize revenue, increase occupancy, simplify management, and improve overall service.
Ebenezer Senior Living: A Decades Long Success Story
Before implementing Eldermark's Business Model Design, Ebenezer Senior Living, like many senior living communities, grappled with the intricate balance of delivering exceptional care, helping residents live meaningful lives, and maintaining financial sustainability across their 30+ communities.
Similar to other senior living communities in Minnesota and across the U.S., Ebenezer faced many of the following challenges:
Financial Constraints: With rising operational costs and fluctuating occupancy rates, maintaining a steady revenue stream became a daunting task.
Operational Inefficiencies: Managing the diverse range of long-term care communities, from independent living to memory care units, required significant administrative oversight, leading to redundancies and inefficiencies.
Adapting to Healthcare Needs: As the healthcare landscape evolved, so did the needs of Ebenezer's residents. Adapting to these changes while ensuring consistent quality care, top-notch equipment, and skilled nursing was a significant challenge.
Integration of Technology: In an increasingly digital age, integrating advanced technological solutions without disrupting the current system was a hurdle.
Enter Eldermark, with our promise of marrying technology to personal care. From enhancing the experiences in assisted living communities to driving innovations in memory care, every facet of Ebenezer's operations was touched, refined, and elevated by Eldermark's expertise.
The result? A thriving community, a surge in revenue, and a blueprint for success that other senior living communities across the country can use as cornerstones.
| | |
| --- | --- |
| Additional Revenue Projections | +$22M year-over-year across 33 properties |
| Additional Revenue Per Building | +$667k Annually |
| Revenue Increase Per Resident | +$1,000 per month |
The Roadmap to Additional Revenue: Eldermark's Strategic Partnership with Ebenezer
Our Business Model Design consultation is a roadmap to success in senior living. It sets organizations up to use analytics and integrates advanced technology solutions built exclusively for the senior living sector. This ensures communities identify and tap into those lacking, and sometimes missing, revenue streams.
By streamlining operations and eliminating errors, the Business Model Design consultation provides gives elder care communities clear insights into how they're performing stacked up against their occupancy and financial goals.
By bringing together the back office with clinical solutions, it not only eradicates duplicative work but also creates total visibility into the health of both residents and the business.
Further, our Master Assessment Tool helps senior living communities properly assess their business model, optimize revenue streams, improve care, and achieve financial goals.
Below are some of the specific steps we took to help Ebenezer experience such a rapid growth in monthly revenue.
Deep Dive Assessment
You can't fix "it" if you don't know exactly what's broken. That said, before diving into solutions, we started with a comprehensive assessment. Our team immersed itself into Ebenezer's day-to-day operations, pinpointing correctable inefficiencies, and spotting untapped revenue sources. This initial groundwork was an essential step to tailor-make strategies that connected with Ebenezer's unique needs.
Tailored Business Model Design
What works for one community may be a detriment to another. That is precisely why we customized our Business Model Design implementation to Ebenezer's needs. What this did was ensure the plan was molded exactly to fit Ebenezer's specific challenges, goals, and opportunities. This approach became the backbone of what would soon become a tremendous transformation.
For example, when it comes to pricing models, many community providers fall into the trap of simply replicating what others are doing in the market. However, all senior living communities are not the same. And just as communities and individual resident care plans are unique, so are the fees, services, and costs. To avoid this issue, our approach tailors plan specifically to each community and their mix of residents and changes in resident acuity.
Integrated Technology Solutions
In today's world, the right technology can help improve the lives of residents, employees, loved ones, and all other stakeholders. Pairing our cutting-edge software with Ebenezer's existing operations proved to be a game changer. Why? Because it bridged the gaps and enhanced communication between various departments, from resident care plans to administrative tasks, driving efficiency to new heights.
Billing Optimization
Billing may seem like something relatively small, but it's absolutely not. If you want a thriving senior living community, accuracy and on-time billing are must haves.
With our True Cost of Care tool, Ebenezer was able to uncover every otherwise hidden revenue opportunity — no matter how small (it all adds up in the end). Additionally, thorough compliance checks ensured adherence to state and federal regulations, while automated adjustments reflected any changes in care needs.
Operational Streamlining
There's nothing worse than spending money on the same thing twice, three times, or more. When we identified operational redundancies, our team quickly eliminated them. This was accomplished by redefining workflows, ensuring Ebenezer's resources were optimized, and taking many other steps. At the end of the day, this not only reduced operational costs but also elevated the quality of service delivery to residents — a win-win for everyone.
Continuous Monitoring and Feedback
Making the leap from an underperforming community (in terms of revenue optimization) to a thriving one requires continual evolution. Throughout the process, we kept an eye on the results, considered feedback, and readjusted as needed. This iterative process ensured that the solutions were always aligned with Ebenezer's growth trajectory.
Transparent Reporting
No one can effectively run a business without transparent reporting on progress towards goals and the work being done by their team every day. Through intuitive dashboards, Ebenezer now has a much clearer window into its billing details. This transparency increased trust and confidence among its leadership team, employees, and all other stakeholders.
Staff Training and Development
Speaking of employees, change is only effective when everyone buys in. That's why we organized training sessions for Ebenezer's staff. This prepared the staff to harness the power of the new tools and processes to their fullest potential.
Another issue many senior living communities face is whether to address staffing concerns or occupancy concerns first — also known as the 'chicken or the egg' dilemma. Our Business Model Design consultation provides data-driven insights to help communities solve that exact problem, what priority problems should a community tackle first?
Regular Reviews and Updates
The only constant in healthcare is that nothing stays the same. Our team stayed proactive, scheduling regular reviews and updates to ensure Ebenezer remained agile and adaptable to changing needs and regulations.
Testing for Accurate Outcomes
Once the service model is developed, reviewed, and agreed upon, it moves into the testing phase — a step we highly recommend. Testing makes sure the model outcomes are aligned with the community's operational and financial goals. If they're not, adjustments are made to the model in order to realign.
Together, these strategic steps led Ebenezer to not only witness a seamless operational metamorphosis but also celebrate a remarkable uptick in monthly revenue by $61,000 per community.
All Senior Living Communities Have Different Needs
There's no one size-fits-all solution for senior living communities because every community is different. That said, Eldermark celebrates the diversity inherent in senior living communities.
From the bustling corridors of senior housing in Edina, MN to every corner of the country, each community, with its unique set of challenges and aspirations, requires a distinct approach.
This diversity extends from the care services each community offers, whether it's assisted living, at-home care, transitional care, independent living, or specialized memory care, to the specific health care needs of its residents.
Boost Revenue, Drive Occupancy, and Grow Like Never Before
Ebenezer Senior Living's partnership with Eldermark isn't a fluke. It's the culmination of impeccable due diligence, cutting-edge technology, proven processes, and two businesses that shared the same goals.
As the landscape of senior living evolves, the successes from this partnership offer valuable insights for other communities. If your community (like many others) is striving for the perfect balance between top-notch resident care, affordable housing, and financial growth, it's worth exploring what Eldermark can bring to the table.

Don't miss out on the opportunity to elevate your community's potential. Schedule your Business Model Design consultation with Eldermark today.