Webinar: How Senior Living Teams Are Boosting Cash Flow and Resident Convenience — 4 Digital Payment Success Stories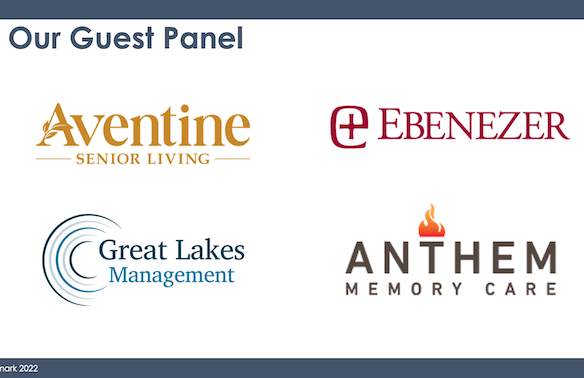 In this webinar, hear from 4 senior living organizations on how they transitioned from traditional payment methods to running their monthly billing processes digitally.
Listen and learn:
- What is ePay digital payments?
- How did these 4 organizations get their residents paying online?
- What strategies worked to actually get residents to sign up?
- What are the top resident objections to ePay and how do you overcome them?
- Step-by-step rollout plan from 4 different senior living organizations

Are you ready to boost cash flow and resident convenience at your community?

"Now we get the cash almost next day. Before we were waiting a week."
- Amber Heck, Aventine Senior Living
We'd love to discuss with you how ePay digital payments can work at your organization.
Webinar transcript:
Mark Anderson:
Hello everyone and welcome to today's leadership forum webinar for April 5th. Really happy that you have joined us today. We've got a really exciting program. I'm super excited to be offering today's topic We're going to get to in just a moment. I'm your host, Mark Anderson, Chief Client Officer at Eldermark. If you ever need to get ahold of me, my contact information is there on the screen. We appreciate your feedback about this webinar series and any feedback you have about topics you'd like us to talk about or issues that you'd like us to introduce and discuss, please let me know. This forum for those of you that may be new to this forum today, these are regularly scheduled webinars and we try to have them the first Wednesday of every month. And we started this whole series during COVID to help support leadership positions among our senior living customers.
And the purpose of these is to help us all learn about technology solutions that can help us as senior living leaders perhaps share information and resources that are relevant to our work, perhaps even addressing current events or concerns as applicable and most importantly, to support each other in our important work. Couple reminders, please. If you have any key staff changes at your community or your organization, please let us know. You can send that information very easily to support@Eldermark.com. And of course, be sure to read any of the latest release notes when they are issued to you. Always helpful information about any little changes in the software updates, feature updates, and maybe even some bug fixes. So be sure to read those release notes as they are sent out. And as usual, I like to always talk about a couple of technology updates.
We've been introducing these now for a couple months, but really enjoy talking about these two integrations or these two solutions especially. We have the Peerlytics integration. This is something new for us this last year. It's an infection control and antibiotic stewardship software solution developed by a senior living company and a pharmacist who specializes in geriatric care. It is a fantastic platform. If you want to learn more, let us know. We'll get a demo set up for you. And then ElderForms is our new electronic document management solution, and this is offered in concert with our friends at Worldview Technology Solutions. ElderForms is a completely electronic system for managing all your forms and documents, so that stack of move-in paperwork, for example, can be digitized, filled out, and then sent for electronic signature, a great solution. Let us know if you want to learn more about that and we can hook you up with the right folks here at Eldermark to help you learn about ElderForms.
Okay, just a few notes before we begin today's presentation. All of you as participants will remain muted. If you do have a question and we really encourage questions, be sure to enter those in the question feature on your webinar control panel and we will get to your questions as we can. We generally try to get to all the questions, so please do submit your questions. I hope you will be inspired by what you hear from our panelists today for sure.
After today, you will get a link to the recording of this webinar sometime within 24 hours after we adjourn. So watch your email for that. And of course, you're always welcome to contact us or our presenters directly by email as you like. And with that, today's topic and presentation is how senior living teams are boosting their cash flow and resident convenience. And we have four digital payment success stories to share with you today from among our resident customers and facilitating today's webinar are my colleagues, Robin Jameson, general manager at Eldermark, and Alex McNaney, ePay client solutions director here at Eldermark. So Robin and Alex will have you get going to introduce our friends from Aventine, Ebenezer, Great Lakes and Anthem.
Alex McNaney:
Fantastic. Thank you so much, Mark. So yes, as Mark stated, my name is Alex McNaney and I am the ePay Client Solutions Director here with Eldermark. And I'm also joined by Robin Jamison, who is Eldermark's general manager for multiple different product lines including both ePay as well as Elder Smarts. So for those of you who are on the call back, might not be familiar with our ePay program, just to give you a very high level overview, we are the payment processing solution that offers flexible payment options in the communities through ACH, debit or credit card transactions. And ultimately the goal is really to provide your residents and their family members the ability to pay the bills conveniently, whether that be accepting different payment styles or also even where they pay their bill, such as a resident facing payment portal or a QR code. But ultimately that should help streamline that collections process and really help you front load the money in the bank each month to assist with predictive cash flow.
But today is not about Eldermark whatsoever, just given you a high level overview of ePay. But rather it's really about the panelists who we have on the call today who have joined us and have implemented ePay at their communities and they've been kind enough to offer to share their experience through this process. So we know that making changes with senior living can seem scary, can seem overwhelming, but these panelists are really a true testament to share how this technological advancement can significantly improve not only the satisfaction at a corporate level, but also the satisfaction of the resident experience. So without further ado, I want to introduce our panelists today. So Trey, I'd love to start with you and if you wouldn't mind introducing yourself and telling us a little bit about Anthem Memory Care.
Trey Hopton-Jones:
Yeah, thanks Alex. My name's Trey Hopton-Jones. I am the assistant corporate controller at Anthem Memory Care. We are located in Portland, Oregon, currently own and manage about two dozen different properties in nine different states. We centralized our billing about three years ago and for the first two and a half years basically just fought it dealing with communication issues and everything else. We've been working with Eldermark on the clinical side for a long time, and so went to them and talked to them about their new billing module, ePay program and got signed on with them, started rolling things out, and it was so successful that instead of rolling things out in four different phases, we ended up combining our third and fourth phase together just to speed things up with the process. So yeah, both Robin and Alex have just been fantastic for us and the whole thing has just just been a very smooth transition and we've just been very successful for us.
Alex McNaney:
Thanks so much Trey, and we'll dive into how you did things before and we're also going to dive into what it looks like for you now. So I appreciate that overview. And then we've also got happen here. So with Aventine we have both Nicole Rice, who's the business office director as well as Amber Heck who is the executive support specialist with Aventine. So Amber, if you want to just introduce a little bit about both of you as well as Aventine as a whole.
Amber Heck:
Sure. So my name's Amber Heck. I work with Aventine Senior Living as the property management group. We currently own six properties, one in Georgia and five in Texas. Their ILAL Memory car. Nicole is one of our business office directors at our communities. She currently helps support three of our San Antonio locations with billing and her and I work very closely together, especially with the transition to ePay, which is a great system. It really was smooth and kind of went behind the scenes. Our residents really didn't even know what was happening, we just made them aware of the change and that's been our journey to date. So I guess we'll get into more in a minute.
Alex McNaney:
Awesome. Thanks so much Amber. And then we also have Great Lakes here with us. So Beth, I'm going to hand the floor over to you if you just want to do a quick introduction of yourself as well as Great Lake Management.
Beth Huettl:
Sure. So my name is Beth Huettl and I am the accounting manager for the housing services communities that we manage here at Great Lakes. We're located in Minnesota and we manage roughly 50 communities. Close to half of those are senior living with services. We do not have centralized billing. We do billing for two communities at corporate. My team handles that for heavy assistance, elderly waiver, caddy. The rest of the communities handle billing independently with a lot of help from me. Yeah, so we have, like I said, about 20 communities and almost all of them are on ePay now. And we are also transitioning to the credit card surcharge option, which has been ideal because we many times have residents and family members ask us, "Can we pay with credit card?" And we always have to say no, which now we can say yes. So it's been a great transition.
Alex McNaney:
Wonderful. Thanks so much Beth. And then last but certainly not least, we have Ebenezer as well. So we do have Connie with us as well as Uban, so Connie, if you would like to just introduce your team and also a little bit about Ebenezer.
Connie Bednarek:
All right, thank you. My name is Connie Bednarek. I am the corporate controller at Ebenezer. We are located in Minnesota. We have a combination of communities that we own and communities that we manage. We kind of run a whole spectrum of senior living. We have the housing services as well as some independent living. So right now we have about 40 communities with services that are on the ePay platform that we've gone to. And just like everybody else, it was a wonderful transition and we're very glad we did it. Uban Hassan is with us today also. She is one of our senior accountants and she really in-house is our Eldermark specialists. So she's been instrumental in getting everyone up and running on the ePay platform and answering everybody's questions, anything to do with Eldermark.
Alex McNaney:
Fantastic. Thank you guys all so much for participating. We are excited to talk to you today and I think that anybody who's listening in or watching this recording is also eagerly excited to hear your feedback because like I mentioned before, there can be a scary unknown factor through any transition. And you all come from all different sizes of communities, all sizes of companies, some central billing office, not using central billing offices. So it's a different story with the same end goal. So what we're going to talk about a little bit today is going through your process that you have. So where do you guys start it off where you guys are at today, and then talking about some of the ways that you guys are increasing utilization within the communities because that's equally as important is making sure that it gets off the ground and not just started. So Connie, I know that you guys just introduced Ebenezer, so if you wouldn't mind, could you tell us a little bit about how within your communities you guys were running any of your collection processes pre ePay?
Connie Bednarek:
Sure. So prior to ePay, we were doing all of our resident collections through our bank ACH process. So either a resident was paying by check at the community or we were running a bank ACH process. Really until we heard about ePay and started using ePay, we didn't even realize how cumbersome it really was gathering all the information from each of the communities on the amounts that we needed to run through the bank system, and then going back and having each of the communities individually post those payments. So there was a lot of room for error in that. There was a lot of reruns of ACHs and things. So really getting up on the ePay platform has made it so much easier. It's saved so many hours of time both on the sites and here in our office as far as not having to process all of those ACH payments as well.
Alex McNaney:
And if I remember correctly, we've had a conversation before too that it used to take you an hour per community per week, which was really taking a week's work of work every single month. What does that look like now for your communities?
Connie Bednarek:
It's a push of a button, really. We don't push a button on the front end, a batch shows up and they post it really just so once it's set up, it's so convenient. It just runs automatically. It's been amazing.
Alex McNaney:
Yeah, moving towards that set and forget if possible. And Beth, that that's a very similar story for you at Great Lakes. I know that you mentioned that you guys were having to manage this all at the individual community level where they had to access these bank records. So can you tell us a little bit about what that process looks like for you before ePay?
Beth Huettl:
Yeah, yeah. Similar to Connie's story, same thing where each community had to go on the bank site for that client that owned that community every month. And of course every ACH template is different, so helping the community's troubleshoot was time consuming, lots of room for error with keying, trying to reverse an ACH payment that shouldn't have gone through due to human error is difficult as you all know at the bank level, depending on the bank. So being on ePay is just a huge efficiency, and I love the option where we can just click refund if there was a mistake made. It's just, it's a no-brainer. So.
Alex McNaney:
Awesome. Thank you. And then as well, I think Anthem, Trey, your process also was similar in the sense of feeling cumbersome and feeling old and outdated and really your guys' goal and the reason that you wanted to move this way is because of that technological advancement that you guys were looking for as your goal within Anthem. So can you tell us a little bit about what not only that process looked like before, but also really what convinced you guys to move towards that digital payments being a priority within Anthem?
Trey Hopton-Jones:
Yeah. So we centralized our billing from the communities and the BODs to the home office about three years ago. And for the first couple of years we just dealt with all the headaches of that communication issues with the communities, not getting room transfers, level of care changes, all that information until sometimes a month after the fact, just missing a lot of those billing dollars because we didn't want to have to go back to a family and say, "Hey, we made a mistake for two months and now we need to clean it up." So that was a big part of the reason for centralizing. But even once we got through all of those, we just still had too many communication issues. Again, too many communities doing things their own way too many headaches for our AR specialists who were trying to handle everything. And so yeah, moving to the Eldermark system just really helped us organize everything, get everybody on the exact same page.
And again, that was just within our own accounting team. The benefits to our families went from being, having three different people involved in the ACH process, myself included, to having just one person with all of that being automated. So just fewer errors, fewer pools happening early or late, just really helped us organize the whole thing. And then also, again, having the credit card payments is something that people have been asking us for years that we've just always had to say no to, but now we do have that option for those few families who want that bit of convenience. So yeah, it's just been an incredible success story for us, for everybody, all of our families and the team to just move forward technologically from doing everything manually and old fashioned and just taking way too long every single week and month to just having a nice, clean, efficient system.
Alex McNaney:
Fantastic. And you bring up a good point too with the credit cards because not only is it offering credit cards, but it's also the ability to surcharge those payments, meaning that you could pass those fees along to the residents. So not necessarily does it have to be a corporate expense, which is why a lot of communities choose not to elect in credit cards, but really having that ability to pass those fees along to the residents, that it's the convenience of choice and ultimately it's their decision. If they want to pay that way, they can gain their points or whatever, but it's ultimately up to them how they choose to elect in that payment method. So that's a great point, and I think everybody on this panel shares that same experience and excitement. So thank you, Trey. And then Aventine, I love your story too because you guys actually used three different systems before and some of it was for credit card processing, some of it was for ACH. So tell me a little bit about what your processing looked like and moving towards that one source of truth, how that felt for you guys.
Amber Heck:
Yeah, so we did way back when, I don't even know the name of the software, it's been so long when we did centralized billing at the corporate office, but it was literally going in and pulling one by one ACH on the fifth of every month for each one. So finally when it came to my responsibility to start doing that, I was like, "We have to have a better way." So then that's when we moved to Pay Safe. So Pay Safe was better. We could do a large upload and I could do kind of a data dump. So it wasn't one by one, but it's still, it was very minimal function use. I had to sign in six different times. Well, at the time we had more properties, but I had to sign in however many properties we had at the time, run each one, upload each one, and it was still a process.
And then to include the credit cards that people were wanting so badly, we did introduce Square. That was a big mistake. We ate all the surcharging cost because there was no way of billing it back. But again, people wanted to pay it. It was kind of like, all right, did we take the $7,000 and take the couple hundred dollars hit? It was kind of worth it to us at the time. But now with ePay, we don't have to sacrifice any of that. Literally, again, going what Connie said, you don't even have to push a button. All of our stuff was ran today. I got all of our notifications, credit cards, they get charged the surcharge fee and are aware of the separate fee that doesn't affect client billing. So it's just been such a better process in the long run.
Nicole, I've kind of passed the baton to her since she is at the community. So she's starting to manage ePay so that I can focus some more items behind the scenes. So she's the one that's doing any off cycle ACHs or credit cards, community fees, refunds. So she's really had her hands into it as well and has been happy with it.
Robin Jamison:
How many of you guys have actually leveraged the off-cycle billing? Right? That's where you just bill randomly. You bill when someone says, "Yes, I want to process a invoice or collect that deposit." That's something that I think each of you guys have done quite a bit.
Amber Heck:
Yeah, we do it.
Robin Jamison:
That's pretty helpful. And I'm glad you said that, Amber, because that's something that everybody runs into, but there's not always a easy way to do it.
Amber Heck:
Mm-hmm. Exactly. So that way you're not, if you don't have a checkbook, we're not be like, "Okay, we don't need it." What's your account number? Everyone has a mobile app these days. You can just pull your routing. Nicole can take that, and then we have the money and we have her move in. With that being said, that something new to us for ePay is the online portal. So we just used that. When did we kick that off? Was it last month? A month and a half ago. So now on our Eldermark invoices, there's a QR code and a link that they can sign on, create a portal, and then just go on and pay themselves if they want to do an off cycle or if they were short paid, whatever the case may be, but they feel more comfortable feeling like it's in their hands, especially being in the senior living industry, it's very sensitive. So that was very great. I don't have the percentages in front of me, but I know each pay cycle we're getting more and more people doing it online.
Alex McNaney:
That's great. And that actually brings up a good point too. So I know that Nicole is at the community level and having those conversations with the residents. So you're bringing up the different ways to collect money through the QR code or the resident facing form portal. These are both changes that you've made fairly frequently. So Nicole, how is the feedback been? What's the resident experience like? Tell us a little bit about what that's looked like for you all.
Nicole Rice:
Right. Now with the QR codes, they just went on the April statements. I've had quite a few families from each of the communities that have used the QR codes and made payments before we pull the ACH today. So they're loving it and they're loving the online link that they can pay online. So I'm loving it too.
Alex McNaney:
Yeah, the QR code was the latest release. We're always looking for ways that we can make it easier for you guys to collect. So Trey, I know for your communities, we've just gotten those onto your printed statements also. Have you guys had any feedback or heard anything about people that are actually scanning that in and to pay within your communities?
Trey Hopton-Jones:
Yeah, definitely had some positive feedback on it. Going out to a lot of existing residents, a lot of those were already set up. I will say we did take on management of two existing communities in the last two months, and one of those, unfortunately, we had to delay the Eldermark integration because of the way that the clinical system was already working.
And with that one, the difference between the two has just been night and day with the one where we were able to start with Eldermark from day one, families were able to come in, we were able to quickly provide them that payment portal. They were able to go review their bills and just really answer all those questions they had about all the changes going on, make payments very easily and everything else. Whereas with the other case, we're dealing with families asking questions about how to pay, trying to run manual ACHs again until Eldermark is set up and going, dealing with checks made out to the previous management company. And so it's just really been just a big headache compared to how smooth the other one went when we did have Eldermark right there. Yeah, that's one of those conveniences I can say it's, yeah, very, very apparent for those big transition cases.
Robin Jamison:
I love seeing Beth's head nod just then. She's like, "Oh yes." So the checks written out to the wrong people happens to you a lot too?
Beth Huettl:
Yeah, we've had that when we've taken over existing communities and yeah, it's a nightmare, that whole collection process. Yeah.
Alex McNaney:
And Trey, you did mention too that you guys originally had a rollout plan that it was going to be based in phases, but then you guys increased those phases. So did you guys have fears going into these transitions and what changed to make you guys increase that process?
Trey Hopton-Jones:
Yeah. Well, it was just a big unknown for us moving from just what had been a fairly simple, we were billing out of QuickBooks, so it's about as simple of a system as you can get and moving into more of an unknown for our AR team and even our entire accounting team having to learn a new system. But we were able to get through all of that, figure out the parts that everybody needed to have access to and learn their parts. And then, yeah, for us was, we had 20 communities. We were doing about five communities in four different phases. And then, yeah, because the first two phases just went off so well, by the time we got to that third phase, we decided to go ahead and bring in those five communities from phase four with it and just run the whole batch right there together and get everybody into the system. I think that was in maybe December or January. So yeah, because we were at the new year, we just said, "Let's just go ahead and get everybody going."
Alex McNaney:
Yeah, start the year off fresh and strong.
Trey Hopton-Jones:
Exactly. Yes.
Alex McNaney:
And I know for Ebenezer, kind of you guys originally had started the thought process of ePay about a year ago, but then there was of course some fear and some traction that led us into towards, I think it was Q3 of last year. And then same concept, you guys started out slow and then we just fast tracked all of the remaining communities. So can you tell us a little bit about what that looked like and maybe some of the hesitation you felt compared to where you guys were at today?
Connie Bednarek:
Sure, yeah. When we were first approached about it, and my boss said, "Hey, we should look into this ePay thing." "Okay." And I just really drug my feet. And I was like, I don't know what they're looking for. I don't know what they want you guys. Seriously, you guys made it so easy. It's like, no, really this is all the information we need to get everybody enrolled. And so we started with one community, one of our own communities. It was safe, it was easy, and we got it rolling and we thought, "Okay, well we'll just roll out maybe one or two every month." Well, that was going to take forever, but once we got it going, we're like, oh, "Oh, that's it. That that's super easy." So Uban probably felt more of it on the back end with all the questions that she got from people. But as far as getting it up and running and rolling it out, it was super easy. Seriously, it was me dragging my feet, just not giving you all the enrollment information. So it was wonderful.
Uban Hassan:
People took to it really fast. And I think we had one in September, and by the end of the year, pretty much 90% were on it. So we moved really quick. It was easy.
Alex McNaney:
And having our boots on the ground Uban, what has the resident experience been like from your experience? What are the things that you were hearing?
Uban Hassan:
The hardest thing first was just getting all that the banking information into Eldermark. That's probably the biggest amount of work you'll do at the beginning, but the reward for it is so much more that it's worth it. It's absolutely worth it. Putting in that little bit of time to get all that information in, and once it's in, it's in, you don't have to worry about it. You don't have to think about it. And the residents loved it. It was for the ones who were paying by ACH, they didn't really see much of a change for them. They were already on ACH, but the difference were the people who were paying by check now had more options to make those payments.
And slowly, slowly, we were first not getting much. But then slowly, slowly now it's like we're getting less checks and more electronic payments, and we're seeing they're initiating the payments and the eds are not checking and making sure we book those payments. So I'm seeing a lot more of them now. And then also when somebody says, Hey, can I do a one time payment? Or now the other day we had somebody who wanted to make six months of payment in one go. So they were pretty easy. They could just go in there and do it. They could put the amount in that they want to pay, and it was pretty simple. So yeah, it's much more easier to do it that way now.
Alex McNaney:
Don't you wish every resident paid in bulk six months in advance?
Uban Hassan:
I wish.
Alex McNaney:
See all of the heads nodding, "Yes. That would be the dream.
Uban Hassan:
In 10 years I've seen that happen maybe two times. How about
Robin Jamison:
Even two months in advance. Even two.
Uban Hassan:
We just like lump sums.
Nicole Rice:
Have one family that moved their mom in, they sold the house and they gave that big check. Was it like $90,000 to put on her account for just a ACH come out every month?
Alex McNaney:
Perfect.
Nicole Rice:
Yes. I love that. That was beautiful.
Alex McNaney:
That's definitely a once in a lifetime resident.
Nicole Rice:
That was so beautiful.
Mark Anderson:
So we have a question that's come in from participants about what level of sophistication is needed by that end user in the business office to manage this. Because we've heard a lot of comments about how easy it is, and we're also hearing outside of this forum, it's getting harder to recruit business office managers out there. So is this really that easy where you can hire someone that doesn't worked in accounting or bookkeeping or maybe somebody who's familiar with that at your business to talk about that? How sophisticated do you have to be to work in the business office and use this stuff?
Nicole Rice:
Just have to have good training and good trainers. For me, with Amber, Amber trained me, I believe maybe one day, maybe two. Yeah, I had questions the second day and I caught on and took over.
Amber Heck:
You can't get any more user friendly than what it is. The system is self-explanatory. Like you go to your reports and you have your reports. You go to your payments, your residence, your contacts. Everything is just there as a flow. You can't really mess it up.
Uban Hassan:
And there's also checks and balances. We tell them to check the bank, the accountants check the bank, tell them what hit the bank, and then they check the Eldermark portal portal and then they make sure that ties. So it's easy. It's very difficult to make a mistake on it. It's pretty easy to get it right the first time. So as long as you have those checks and balances make a huge difference.
Mark Anderson:
Thank you.
Trey Hopton-Jones:
Yeah, we actually brought in a couple of our stronger BODs to be our AR specialists when we centralized. And so yeah, they were very quick to pick up on the system. Unlike any new system, he was learning the ins and outs of it all, but we always had incredible support from the Eldermark team and Tammy and Robin and Alex have always been right there for us to quickly answer any questions that did come up and resolve any problems that we had. So yeah, it's been very smooth and easy for us as well.
Beth Huettl:
I just want to add on to the comment you made about customer service. And Eldermark exceeds my standards for customer service. I think it's exemplary compared to some of the other systems we work in. So I just wanted to share that.
Mark Anderson:
Thank you.
Alex McNaney:
Thank you.
Amber Heck:
I agree
Alex McNaney:
That's important to us. The business doesn't run without you all, and the only way for you all to manage your workload and everything that you guys do on a daily basis and exceed the expectations of your residents is if we help you with that. So thank you for bringing that up because that is our number one goal here, is just to make sure that this is not just a software, this is not just a program. This is a true partnership and we try to go the extra mile to make sure that you guys feel that way.
And Beth, just thinking back to something that we had just talked about was really the upfront work, if you will, of getting payment information into place that Uban just mentioned. For you all, it really came down to entering in details and then it's the set it and forget mentality or as you said, a slick approach. So how did it feel for you guys making this transition? I know you had some ACH before, but you guys are currently in the process of moving towards credit cards, so there's still some transition that you guys are doing on a daily or weekly basis to make this a success at your guys' locations.
Beth Huettl:
Yeah. And we really need to fully implement that. It's been really ideal to have the resident portal, the payment links on our website. And I'm really excited about the QR code, so I need to talk to you guys about that.
Alex McNaney:
Yes, I will reach out. We're going one by one, so we probably haven't chat too deeply about it yet. But the QR code's very exciting. So we'll dive-
Beth Huettl:
Yeah. But the upfront work, entering all the bank accounts and everything, that's just, it's easy. It's just a little time consuming and then you're done and you're not dealing with it every month. And the enrollment process, I have to say, like Connie said, the first time I was dragging my feet and it felt a little daunting. But once you do one, then you just keep doing the rest. And as we're onboarding new communities, I'm just pushing them onto the full platform. So it's been really nice.
Alex McNaney:
And you all have a few communities that have started collecting prospect payments as well, so it's really getting that initial interaction that they pay that way moving forward. What has that transition felt like for you?
Beth Huettl:
Oh, that's been really easy. Just training, marketing, leasing staff on how to use Stacks to initiate that, and then training the bonds on how that should look in Eldermark. But yeah, that's been really nice. We've already taken in a couple of those, so that's good. Less checks.
Alex McNaney:
And it's also really empowering to your community leaders too, so you're giving them the ability to take those payments at the community rather than having to funnel that elsewhere. I know you guys don't necessarily have a central billing office, but it's really the trust and the training at the community level so that you guys don't have to manage all of that for one individual person.
Beth Huettl:
Exactly, yes.
Alex McNaney:
And then you had mentioned too that you guys are also starting that transition for surcharging, which is great. I think everybody else on the call already has surcharging at their community levels. Is there anything anybody else wants to add to how that's transitioned your business? Maybe non-payers for ACH have now shown interest in moving into the credit cards realm? What does that look like?
Trey Hopton-Jones:
Yeah, I can say for us, the ePay portal has just been a huge help on all of our new admissions. And we got to a point last year where we were having some issues with enough of our communities not collecting checks before move in and those kinds of issues that we had to set up a policy requiring checks, no ACH payments, those kinds of things. We've fortunately been able to quickly move away from that policy and just provide them the quick payment link. Say "If you do want to pay via credit card, go ahead and do that. Go on and pay via ACH if you still want to give us a check, obviously we can do that." But yeah, it's just completely alleviated all of those move-in issues we were having collecting those initial payments. So yeah, huge BO for us in that regard.
Mark Anderson:
Well, the former operator and me just wants to hear from everybody. Or some of you, what has this all done for your cash flow?
Amber Heck:
Well, for us, we get the cash almost next day. So before we were waiting a week, so having it next day available is great, but then also collecting 85% by our due date has made a difference with the stragglers behind. So our aging has probably been the best it's ever been.
Mark Anderson:
Awesome.
Robin Jamison:
I know Beth-
Mark Anderson:
Music to my ears,
Robin Jamison:
And you're at Great Lakes. I know some of your leadership was looking at that trending of the cashflow coming in, and that kind of raised some eyebrows as like, "We really can improve this easily," it sound like. And I think that has been a little bit of a game changer to say, "Can we put people on a more regular occurrence, whatever date that is because we are fully aware that some of our residents can't pay on the 5th, but they may need to pay on the 7th." But just being able to see that and know that they're paying on the seventh consistently, I think that's been a change for you guys. Is that true?
Beth Huettl:
Oh, absolutely. Yeah. Managing cash is, yeah, just becomes so much easier because we know by this date every month we're going to have the cash to cover this and this. And it isn't, oh gee, I wonder if more deposits came in. I should check with the community. Do you guys have deposit checks to deposit? So it's definitely eliminated a lot of that back and forth.
Robin Jamison:
Yeah, I really want you guys to be able to see that cash flow, so exactly where when your money's coming in to where it becomes less burdensome just in general to where that on the fifth, Adams pays on the seventh every month and Kennedy pays on the 21st, but it's consistent and you don't have to even think about it. That set and forget it from the get-go is really what we're after for you guys, and I think that if guys, a lot of our communities are even thinking about moving towards a mandatory electronic payment option, is that something you guys think you'll ever do as an organization or you think it'll just kind of happen naturally?
Beth Huettl:
We've actually at a couple of our communities instituted the non ACH payment fee. So we're definitely pushing for that. So we're slowly rolling that out to new residents.
Amber Heck:
I was actually going to ask that question because we don't enforce it yet. So we're talking about it, but we're just not quite there yet.
Nicole Rice:
Has there been any pushback for having them to set up for ACH?
Beth Huettl:
For the fee?
Nicole Rice:
Yeah. You're charging a fee if they do not set up for ACH.
Beth Huettl:
That's right.
Nicole Rice:
So is there any pushback from families or?
Beth Huettl:
No, we're not implementing this right now at a current residence, but we're implementing this to new move-ins. And so they really don't know what the difference, so it took us a long time to roll this out as well. There was a lot of hesitation, but I really just think that's where we are now.
Nicole Rice:
I think that's good.
Trey Hopton-Jones:
Yeah, that's a good idea.
Alex McNaney:
Yeah, that's helpful for not only you all individually on the panel, but you guys are also going to hear some of each other's best practices and be able to implement those. So that's exactly what we wanted, not only for anybody listening but for you guys to hear as well. And then really, we're getting up towards the tail end here, which is crazy that our time together has gone so quickly. But I also want to talk a little bit about some of the different out of the box ways that you all are using the ePay program today. So we've talked a lot about the QR codes that are unprinted statements. We've talked about the resident facing payment portal, whether that be on your website or in your email statements.
But we've also just recently released our version two of the resident facing payment portal, which means that you don't have to be an Eldermark customer to be able to use the ePay system. And so where we've seen this via transition is Connie with Ebenezer. We understand your TCU programs are separate from the Eldermark billing solution, but your goal is to get to a one source of truth, and we're going to start shifting into those TCU centers with ePay. So I know it's just starting in the process, but what made you guys go into that decision and how are you guys feeling about that transition now?
Connie Bednarek:
So for our care centers, same process as far as residents had the ability to pay by ACH, again through the bank, but never by credit card. And that's the one thing that really pushed us is people have been asking for a way to make payments by credit cards, and we just didn't have that. And so once we heard about the ePay, and even honestly from the get-go, we asked, "Okay, are we going to be able to roll this out in our care centers?" And you said, "Sure, eventually we can do that." So we are working on that and there's seriously, I just have to get together with you too because I get calls every single day. "When are we starting, when can we take credit cards?" So I will be contacting you very soon to get that going. But then we also have, at Ebenezer, we have a development division, and so we're developing a senior cooperative or several of them.
And one of the things that we do is we take member reservations. And that has been so incredibly helpful to be able to take those credit card payments. You've got the person right in the room, they're excited about, "Hey, I want to get in on this new development. Well here, take my credit card and I'll give you my $500." People aren't carrying around their checkbooks anymore necessarily or something. So it's been really automatic and honestly for us, it really helps. If they need a refund, it's super quick and easy to give them a refund rather than having to then turn around and request a check back to the people and wait for the mail and whatnot. So we've just found it super, super helpful in stacks. So easy to use. I love it.
Alex McNaney:
That's great. And you guys also are one of our engaged customers too, which is our resident engagement social application. So inside of that app, there's a bill pay tile for the residents to be able to make their payments throughout other parts of Eldermark. So have you guys noticed anything you might not have at your angle, but have you noticed any feedback? Uban maybe you've heard feedback there. Has anything come to your guys' desk with the Engage application?
Uban Hassan:
Not aware of that one yet. No, I don't think we haven't received anything. No feedback on that one yet.
Alex McNaney:
That means it's flowing seamlessly so that [inaudible 00:44:03]-
Uban Hassan:
It's flowing seamlessly. It must be working. I haven't heard anything about it. Yeah.
Alex McNaney:
That's great. And then I believe it's the Aventine team. You guys are actually also billing your vendors for your beauty services and using the point of sale transaction system inside of Stacks to be able to collect for your vendor services. So totally outside of the box, which is great and exciting. Am I understanding that correctly? And can you tell us a little bit about that?
Amber Heck:
So it's like kind of, yeah, so they don't pay it on the portal because they typically pay us by check anyways, even though we've tried to set them up. But yeah, so we have Agility and then our beauty barbers that we kind of set them up as a resident in Eldermark. So whatever their monthly billing is, we set it up as a recurring charge, but we mark it as not a unit or a resident. So it doesn't go against our census. But yeah, so it creates a monthly statement. It would have that QR code on there too. So if they wanted to pay, they could, they know their amounts, but basically they still pay by check. But Nicole takes the check and deposits it and it applies it, but we are billing them through Eldermark and they do have the access there. They don't utilize it.
Alex McNaney:
Okay. Now we're getting up right towards the tail end here. So I want to thank everybody for your participation today. What advice would you give to somebody if they were just going to get started or are considering starting with ePay, whether it's in relation to boosting their cashflow or whether it's just the operational efficiency? What advice would you give them?
Beth Huettl:
I would say don't hesitate. It may sound daunting, but as soon as you adopt that program, you're ready to roll it out everywhere and you, there's no looking back, I have no regrets.
Connie Bednarek:
That's exactly what I was going to say. Don't hesitate, don't drag your feet for a year. Seriously. Just get on it and go It's much easier than you think it's going to be. And yeah, at the end user out at the communities, they caught on so quickly, so no hesitation there.
Trey Hopton-Jones:
Yeah, I'd say the same thing. It's just, yeah, you get through that first one and then after that, yeah, it's pretty smooth sailing from there on. Like I said, that's why we just lumped all ours in and move it much faster than we even intended.
Amber Heck:
[inaudible 00:46:42] we did all of ours at the same time. No issues. If anything, it offers a lot more than any other program I've ever worked with. We even put QR codes up on a TV that's in the main lobby, so when people are coming by for tours, it's a slideshow that sits there, so they have the opportunity to utilize it that way. So we just broadcast it everywhere.
Alex McNaney:
ePay the world is what Robin and I always joke around about. So if we could do virtual backgrounds in the system, you'd see our backgrounds that are super fun with the money flowing, but we didn't have that option in go-to webinar, unfortunately. Well, great guys, thank you so much for everything that you guys do on a daily basis, not only in our partnership, but for all of the residents that you guys serve every single day. Thank you for being here. Thank you for your help. Mark, I want to hand the floor back to you. I don't know if there's any other questions that have come up that we could close out this session. And then I know that you've also got a few of the last minute housekeeping items, if you will, that you want to cover. But for us, thank you again and we look forward to working with you guys here individually. If any of the follow up items, but also anybody that's listening in, if you need to contact us, please feel free to do so on the Eldermark website. We'd be more than happy to go through this together.
Robin Jamison:
I want to add real quick, if it's okay, Mark, that we are having our first user group on August 19th. And I say that because you all, I watched you guys-
Mark Anderson:
April 19th. April 19th.
Robin Jamison:
April 19th, yes. What month am I in? April 19th. We're in our first user group on April 19th. It's the third Wednesday of every month, and we have them scheduled throughout the year. So please join. And the reason why I say this, because I watched you guys interact and I love watching y'all interact, but I watched you guys interact and learn from each other. And that's what those user groups are for, is to educate you guys and learn together and share your best practices. So please invite all your organization, anyone that uses Eldermark to those calls to learn and share ideas, because I just watched it all write down notes whenever Amber said something, I saw Beth write something down and it just made me so happy to see that sharing of information has such a positive impact. So thank you. And yes, April 19th is our first one, not August. We will have one in August, but April 19th is the first one. So thank you and thanks to you guys for today. You guys were amazing. Thank you.
Mark Anderson:
This was great. Nothing's more fun in our leadership forum webinar series than to include representatives from among our customers. So yeah, thanks a million you guys. I know that our participants certainly appreciated your perspectives and your viewpoints and your feedback and your comments. N nothing is better than to hear from another provider who's using something and about their success. So thank you a million for that. I think we're just going to stay here as we adjourn and just remind everybody on this webinar that our leadership forum webinar series for May will be on Wednesday, May 3rd. So watch four announcements about that. You can always sign up for these on the Eldermark webinar calendar, accessible on our website. And again, if you have any questions or things that you want to share about this leadership forum webinar series, let me know at manderson@Eldermark.com and hopefully we'll see you all again in May. Thanks again to our panel and to Alex and Robin, appreciate it. This was just great today. Thank you all so much. We will adjourn talk to you in May.
Alex McNaney:
Bye. Thanks everyone.