Use ElderSmarts to empower your team with actionable insights
A simpler way to

track performance and trends at your community

An Accurate View of Community Performance

ElderSmarts compiles data from every source at your organization. Reports and insights no longer have to exclude any data. Get a truly accurate view of what's going on at your community.
Stay on Track and Reach Your Goals

Gain a great view of your community KPIs enabling you to optimize financial performance, resident acuity, occupancy trends, staffing needs, and more.
Cost-Effective

Eldermark analytics and software experts take the work, cost, and risk of creating a reporting solution in-house off your plate.
Actionable Insights

ElderSmarts empowers your team with truly actionable insights into operations across your organization. Take direct action based on analysis into sales, marketing, operations, nursing and other department performance.
Compatible with Every Data Source

From lead generation applications to CRM, Marketing platforms and financial software, ElderSmarts can compile data from every solution your team relies on. Report on data covering the entire resident customer journey.
Benchmark Against the Industry

Compare your performance and efficiency against the industry with Eldermark's unique access to benchmarking data from thousands of subscribed communities.
With ElderSmarts, you'll be able to: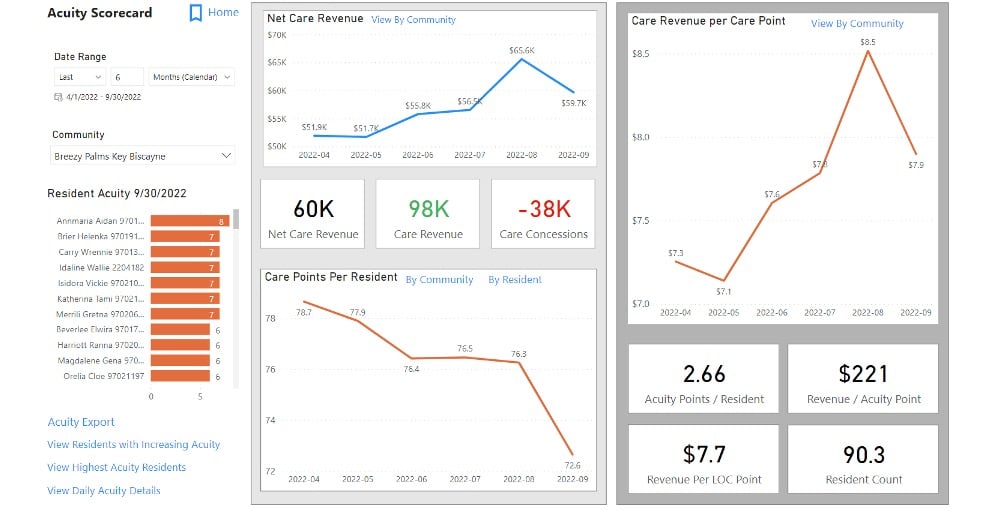 Empower your team with comprehensive data insights on your entire operations
One of the fastest growing needs in senior living is a comprehensive, scalable business intelligence solution that can aggregate data across every tool you use, every community you manage, and every resident you care for. ElderSmarts enables senior living teams to take a look at any aspect of your operations, compare to expected performance and take action on areas that need improvement, or reallocate resources with confidence.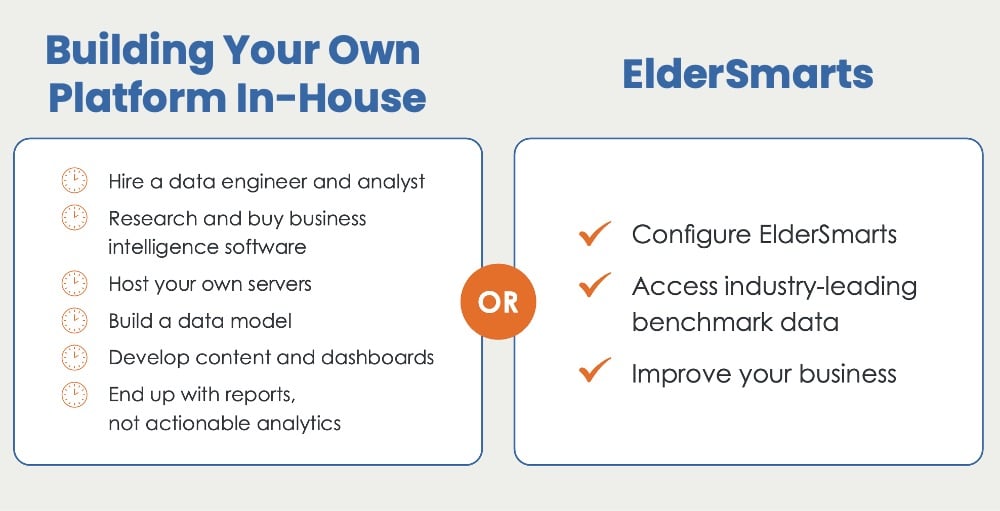 Take advantage of senior living "analytics as-a-service"
Avoid the biggest pitfalls companies fall into when they go and try to build a custom, in-house reporting platform. With ElderSmarts you can avoid all the frustration, risk, delayed time-to-value, and overblown costs that can be so common when you take on building reporting systems themselves.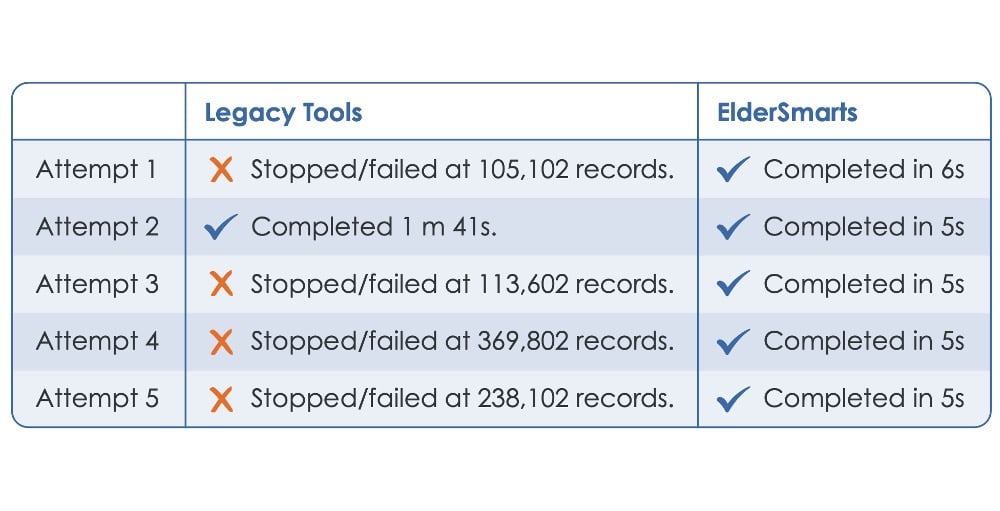 Power up your reports
Not only does ElderSmarts enable you to feed your reporting capabilities with additional data sources, providing your team with more comprehensive insights — it can aggregate all that data in just seconds.
To test that claim, a large Eldermark customer who recently moved to ElderSmarts ran a comparison to try and pull over 850,000 records against their old reporting database. The legacy system usually failed to compile the same number of records as ElderSmarts, and the one time it did succeed, it took 20x longer!