How to Create a Game-Changing Payment Experience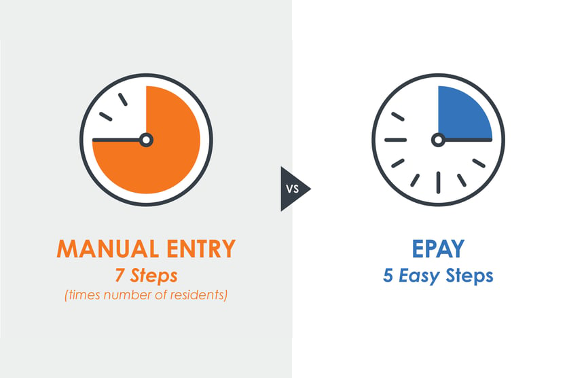 Our buying habits have changed – we now live in a world where most of our monthly bills are set to be paid automatically, our credit cards are on file everywhere we shop, and our expectation for simplicity is at an all-time high.
So why aren't we seeing more senior living communities provide these payment options to their residents and their families?
These are services that your residents have come to expect. Plus, they save your staff valuable time and resources, eliminate paperwork, and give you faster access to cash.
If you're already accepting online payments through your bank or a payment processing tool like ePay, there are likely ways you can reduce your costs, get more residents to use your payment system, and have those funds hit your account even faster! These are the top three ways our customers have made online payments a cornerstone of both their care and business models:
Understand your costs

Know how to offset processing fees

Make paying easier for residents and families
Each of these are explored in more detail below.
Understand Your Costs
One of the most important steps in creating an effective business model around online payments is understanding your true costs. This includes calculating what you spend on transaction or processing fees and measuring how long it takes your team to manage invoices and payments.
Find Your Fees
Depending on your processor, you'll likely have one of, or a combo of, the following:
Per transaction fees
Recurring monthly or yearly costs
Hidden fees
We've heard some communities tell us "it's free" to process payments through their bank. That unfortunately hasn't been the case every time we helped a customer validate it. In reality, every vendor charges fees for these services, but how they do that can vary.
For example, your bank may run promotions or offer "free" or "minimal fee" transactions, but they aren't telling you that they are recouping those fees in other ways. A few things you can check on your own statement to see if any of these hidden fees apply to you are:
Do you have a monthly or annual membership or maintenance fee?
What about wire transfer fees?
In comparison, we charge one transparent fee so you don't have to scour your monthly invoices to plan out your expenses. With a single locked in fee, you'll know exactly how processing will impact both your bottom line and your residents if you choose to pass those costs on to them (more info on that later)!
How to Offset Processing Fees
Once you know what it costs to process online payments, you have a few options to minimize the expenses to your community.
1. Wrap it into your annual price increase
One of the easiest ways to spread out these costs is to simply include them in your annual rate increases! For example, if you're planning on a 2% increase for 2023, bump that up to a 2.5% increase instead (or whatever number is appropriate for your community). That difference will be negligible for individual residents but will make a big impact on what your community can invest in like maintenance and improvements, new programming, or updating hardware/software.
2. Community admin fees
Another approach our customers have used is applying a processing fee for residents who don't enroll in online or automatic payments. Automatic payments are actually cheaper than manually processing checks and they eliminate the time your staff has to spend collecting, depositing, and manually balancing ledgers.

So applying a $25-50 processing fee will help you offset your costs and it gives your residents an opportunity to choose the best option for themselves.

"When we first decided to go electronic 100%, we did give our residents the option to continue paying by paper check, it just would incur a $25 processing fee. So, most have switched over, it's a learning curve for families and residents, we're getting past that learning curve, it's getting easier each month."

- Lori Weinke, Billing at Vista Prairie
3. Surcharging
A third effective option is surcharging. A surcharge is an additional fee that's added to the cost of your services beyond the initially quoted price. For example, your local coffee shop might charge an additional 3% if you pay with a credit card instead of cash. In the context of senior living, a 3% surcharge would mean that a $2,000 monthly invoice would actually be $2,060 if the resident paid with a credit card.
4. Do nothing
Finally, you can choose to do nothing and absorb these costs. While this does keep your monthly costs lower for your residents, we'd strongly recommend against this approach because it adds unnecessary stress to your finances – especially while our sector is struggling with lower occupancy rates and swiftly rising care costs.
Hopefully one or a combo of these will work for you and your residents! We all know change can be difficult, but for the most part residents haven't been pushing back on our customer communities when they've increased their prices to reflect the rising costs of providing services. People understand the need for it but if you do come across resistance, I'll give you one last suggestion – blame us.
Seriously, you can pass the buck and blame your billing company. You aren't increasing costs or applying new fees because you're looking to make more money. You have bills to pay too and, while we can't speak for everyone, Eldermark can take the heat when you need us to!
Make Paying Easier for Residents and Families
There's one other thing that communities who successfully get residents to adopt online payments do – make paying easy!
Automatic, online payments are commonplace for many of us, especially for younger generations who have never had to actually balance a checkbook. But that doesn't mean it's always a simple thing for our residents to see the value in – especially if they've been walking a paper check to the front desk every month for years.
Aside from the pricing options listed above, there are a myriad of ways you can get your residents excited about using online and automatic payment methods. Ultimately, the best tactic really depends on the people living at your community!
That said, there are a few creative things we've seen our customers do that could help you get started:
Create an enrollment kit for your residents
Providing an enrollment kit is a fun and easy way to get your residents to move to online payment methods. This is especially effective when you roll these options out for the first time at your community, but can be used anytime you have new residents moving in.
Some of the tools we've seen used are:
An enrollment guide to include in your welcome kits
A "how to" video that guides residents through the process
Flyers to put in mailboxes, send to family members, and leave in common areas that explain the value of online payments as well as the security in place to protect their information
Email announcements or reminders to residents and their families
Social Media announcements
And the best part is, you don't have create any of these from scratch! We put together a "resident enablement kit" you can download and use as a starting point at your community.
Make enrollment a standard (but optional) step in your move-in process
In addition to providing enrollment information in your residents' welcome kit, making enrollment part of your entire move-in process makes the conversation easier for both your residents and your staff.
Out of the gates, it makes it a very simple and painless process to enroll. It allows your team to set the status quo in a way that's preferable for everyone as opposed to trying to convince someone to change part of their already established monthly routine.
Plus, this approach minimizes the risk of feeling like you're selling something to your resident – especially if you're surcharging or applying processing fees. From the day they move in, they'll understand your processes and be able to make the decision that makes the most sense to them!
Provide a link to your online portal on invoices and easily accessible on your website
This may be one of the more obvious suggestions here, but it's an important one to include. Make sure it's easy to find and access your payment portal! Your processing tool should automatically generate a payment link in each invoice, but that shouldn't be the only place your payers can find it.
If you have an internal community website or resident engagement technology, it's best practice to include a link to the payment portal right on that home page so your residents can easily access it anytime they need.
We would also suggest including a link on your external website so family members can access this when and where they need to. We've seen success in putting a "Sign In" or "Pay Here" button either in the top corner of the home page or as an option in the footer of your website. You can see an example of one website below.
Create a short "how to" video that walks your residents through the payment process
While this may be the most hands on recommendation we're making, it doesn't have to be difficult to put together! We've seen communities hire a production team to create this and we've seen homemade Zoom recordings to demonstrate the process.
In our opinion, the quality of the video is less important than the content. You need to be able to convey two primary things with this video:
Show your residents how simple it is to start paying online. This is especially important for the holdouts at your community who just really want to pay with a check. A simple, screen recording video can drive the point home that it's such a simple process.


Provide a visual stop-by-step guide for completing these transactions. Not only does this provide a better experience for your residents, but it will also reduce the number of questions and support your team will need to provide.
Once you have your video created, it's a good idea to embed that somewhere residents commonly visit and provide a link to it in your community communication and invoices.
For those of you who use ePay at your community, we've got you covered! We have that video guide already created. You can view it below or copy/paste this link wherever you have your payment portal information: https://www.eldermark.com/payment-portal-faq-for-residents
Reach out to their families – especially if they're providing financial support
It's easy to talk with your residents about their payment options – you see them every day! But they aren't always the one making the payments every month. Many of the tools and suggestions we've outlined above can be easily adapted to apply to anyone making payments.
If you're just rolling out online and credit card payments, make sure to send an email to family members or mail them a flyer too! If you've been providing these services for a while, it never hurts to send out a reminder to the people who are still mailing you a paper check that they now have easier options available.
Plus, when new residents are moving in, you can easily drop a copy of the enrollment guide in with the information you send home with families.
As discussed, getting residents to adopt online and automatic payment options not only makes life easier for them and your staff, it's actually a great way to reduce your operating costs so you can spend more time and money providing exceptional care.
If you don't currently provide these payment options but would like to, let us know! We're happy to answer any questions you have or provide more information about our payment processing solution. Click the button below to get in touch.