Senior Housing News Voices: Jaime Ojeda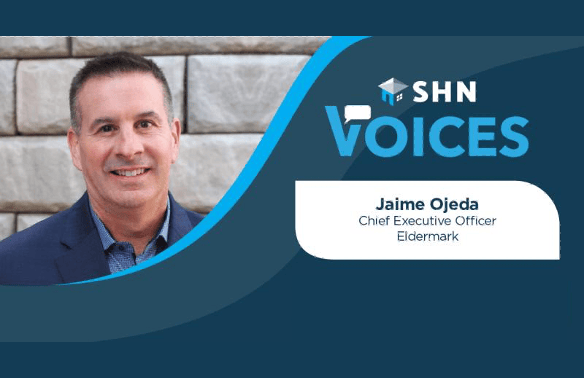 This article appears in Senior Housing News, published by Mick Stahlberg.
This article is sponsored by Eldermark. In this Voices Interview, Senior Housing News sits down with Jaime Ojeda, Chief Executive Officer, Eldermark, to learn about the measures senior living organizations are taking to draw insights from their data to optimize their operations, and how Eldermark – through their ElderSmarts™ Business Intelligence/Analytics platform – can help operators achieve this. He breaks down some of the most requested data analytics topics and categories today, and he explains what's on the horizon for Eldermark's senior living data management capabilities.
How can your community use analytics to streamline operations and offer amazing care to your residents?
Senior Housing News: What career experiences do you most draw from in your role today?
Jaime Ojeda: Much of my career has been devoted to driving value-based care in acute care and outpatient settings, leveraging lean process improvement, health care software technology, and health analytics and business intelligence. These are highly regulated spaces. It's inevitable that we will see more regulations and pressure to deliver value-based care coming into senior living in the next decade.
Many of Eldermark's existing clients are some of the most sophisticated senior living operators and investors in the space. Increasingly, they're looking for analytics tools to provide insights into their businesses and how they're performing, as well as to drive process improvements and future investments. Many have made investments in technologies like clinical, financial and HR systems, and those have treasure troves of data that much of the market is starting to appreciate — they want to unlock that data's potential to drive meaningful change in their operations.
What factors are driving the increasing demand for better data and more robust analytics, and where do you see the biggest information gaps in the senior living space?
Providers are increasingly looking for answers to guide business decisions at a time when they have limited resources, and the providers that haven't made technology investments are likely suffering the most. It's just really hard for them to get high-integrity data if they don't have capable systems in place.
In senior living right now, the increasing demand for data analytics is linked to recovery from the pandemic in 3 dominant domains: occupancy, financial stability, and workforce stability.
Lost or uncaptured revenue is another area of concern. We're able to provide analysis and insight into the overall occupancy and resident acuity trending across an organization in real-time, and how it impacts their bottom line.
Finally, many times this journey into data analytics is simply about identifying areas where there aren't strong data practices in order to improve them — something that we call "good data hygiene." As an industry, we're only starting to scratch the surface of what artificial intelligence and machine learning will bring to the table. All will be dependent on clean, high-integrity data, so as operators focus on data hygiene and data enabling, they will have the upper hand in the next era of analytics. Now's the time to get visibility into those poor data practices and guard against recurrence. That's what our ElderSmarts platform does best.
How does Eldermark's ElderSmarts™ offering differ from third-party solutions when it comes to data organization?
Everybody's grappling with finding the right tools and we are uniquely enterprise-focused in terms of data aggregation and organization. While most others focus solely on pre-canned reports and dashboards specific to their system or systems of record, we go beyond that. ElderSmarts aims to connect clients to a broader ecosystem of data sources and be the primary source of insights for operators and care providers.
The value in joining disparate data systems is that you can create actions across the organization, not just within silos, which is typically what goes on now. By joining data from different sources — Eldermark data and staffing data, for instance — we can better manage labor within a community impacting resident care and overall financials. This enables us to provide predictive and prescriptive insights that nobody else does. When I say predictive, it's what is likely to happen or what is happening based on analytics and trends. But prescriptive insights provide an opportunity to inform and determine the best course of action – for example, these 12 residents need to move to a higher level of care because their actual service demand exceeds their currently assigned level of care, resulting in uncaptured revenue. That's the next level of analytics, and that's what we deliver to our clients.
To underscore our enterprise data-agnostic approach, a number of our clients run data through ElderSmarts to identify opportunities to acquire new non-Eldermark communities (or divest). This provides data-driven decision-making for near-term and future M&A decisions.
What are some of the most-requested data topics or categories among senior living customers, and how is Eldermark meeting those needs?
We are continuously releasing ElderSmarts content packages based on deep input and feedback from our clients. A lot of what we see is that labor costs have soared in the last year, and it's more important than ever to capture revenue associated with what that labor is producing to avoid margin compression.
Clinical quality measures are very important to a number of our customers, along with risk management. Fall prevention, rehospitalization rates — they're very interested in analyses that allow them to understand how they're performing, how they can better mitigate risk, and how to achieve better resident care outcomes. Additionally, we are looking at how staffing is aligned with resident acuity, and the overall occupancy of the communities our clients serve. With ElderSmarts, Eldermark is analyzing staffing needs directly related to resident acuity over time. For example, we are providing content sets for clients that inform the number of staffing hours required by shift by day of the week to meet resident acuity needs.
Resident acuity creeps up and will continue to do so in the coming years. Tracking and projecting this trend is also an area in which we are very active. Our clients are very interested in their clinical quality indicators and then comparing their outcomes to that of other providers. ElderSmarts is able to go through the rankings of different communities, provide scores for which communities are performing best, and give leadership insight into why some are performing better than others. We'll start to bring industry benchmarks into that too so they know how they're performing within a geographic region, or nationally, for that matter.
The value of benchmarking cannot be understated. Bringing in 3rd party data will be valuable. Obviously, some health care is delivered outside of the four walls of the community, so understanding access to care is beneficial to closing the loop there.
How can ElderSmarts help operators address the most pressing operational challenges?
ElderSmarts is driving change by informing the best course of action required to achieve resident satisfaction, clinical, and financial goals. ElderSmarts is serving up predictive analytics and curated decision support insights in real-time. That's a big difference in how we're approaching the market.
We are democratizing data for operators, and we're pulling data from all sources to enable everyone in their organization to make data-informed decisions. That's how more sophisticated operators and investors are approaching their management teams. Data analytics are organized and presented in alignment with the client's goals, and it's in priority order so they can make the most immediate and lasting impacts.
What does the future hold for Eldermark and its customers?
Eldermark will continue to operate within a partnership culture in response to our clients' needs. The clients that go all-in with our platform and solutions, and that follow our clients' best practices, are getting paid for the great service that they provide their residents.
Providers will need to rely on robust, efficient, and comprehensive technology systems to meet the needs of their customers and successfully operate their business. We will continuously evolve to stay ahead of the curve and innovate for our clients so they succeed in this next era of senior living.
Finish this sentence: "In the senior living industry, 2023 will be the year of…"
…value-based care and introspection
Editor's Note: This interview has been edited for length and clarity.
Eldermark is a comprehensive suite of senior living software solutions that drive better care, operations, and financial results. Every day we enable senior living teams to streamline their team's work, increase revenue, optimize marketing and improve clinical outcomes. With ElderSmarts™ Analytics we're empowering assisted living organizations with high-integrity data and actionable insights into their business and care operations, learn more at eldermark.com or contact sales@eldermark.com to schedule a personalized demonstration of how ElderSmarts could work for your team.
The Voices Series is a sponsored content program featuring leading executives discussing trends, topics and more shaping their industry in a question-and-answer format. For more information on Voices, please contact sales@agingmedia.com.