Webinar: What's On the Horizon for Assisted Living Regulatory Oversight? One Expert's Viewpoint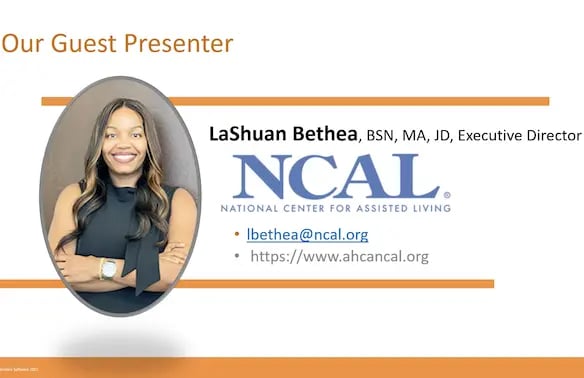 The assisted living business line is the recipient of increasing regulatory oversight across the country. In the absence of national standards the states are left to their own devices to create their own regulatory climate. What do we see in our crystal ball as we look to the future of regulatory oversight in assisted living?
For this Leadership Forum Webinar, hosted by Mark Anderson, Chief Client Officer at Eldermark, we will hear from a national expert, LaShuan Bethea, BSN, MA, JD, Executive Director at NCAL, about her view of the regulatory landscape and what the future may hold.
Resident engagement software empowers senior living teams to prove and show compliance with changing regulations by using data on activity participation and assessments.
Talk to an engage software expert to learn more about how software helps keep you compliant!
Listen to the webinar below:
Webinar transcript:
Mark Anderson:
Hello everyone and welcome to our Leadership Forum webinar today, October 5th. This is Mark Anderson, your host for this webinar series. I'm Chief Client Officer here at Eldermark and I welcome you to this webinar broadcast today. For those of you who may not always be a part of this, just a few review and reminders of things here. This webinar series is regularly scheduled every month for a number of reasons primarily to connect as leaders in senior living to learn, share and support each other. Sometimes we share new information about new technologies. We try to keep things centered around current events and current concerns. Again, all with the intention of supporting each other as leaders in the senior living business line.
Just a couple reminders for Eldermark customers here today on the webinar. If you have any key staff changes, please do share those with us. You can send those to support@eldermark.com and one of my colleagues will update your information. Then also be sure to read the latest Release Notes as they are sent out to you. If you are someone who would like to receive those Release Notes and you're not getting them as you would like, again, let us know at support@eldermark.com and we'll make sure that our records are updated for you to get those Release Notes.
Just a few technology updates for what's new at Eldermark. Lots to keep track of here. Things changing all the time. But just a few new things I wanted to bring to your attention, if you haven't heard about these already. We are ready to begin offering a new integration to our customers with Peerlytics. Peerlytics is an infection control and antibiotic stewardship management software system. It is actually a product created by a senior living provider organization for youth in their communities. They're a customer. We got wind of it. It is such a great system, we decided to integrate. If you want to learn more about this, customer support manager here at Eldermark, or you can certainly message me as well and we'll make sure you get connected.
Another reminder that we have this year created an integration to the Yardi Financial System. If you use our billing module and want to connect your billing module to Yardi Financials, let us know. We can now do that for you. Another reminder about our sister company, eMenuCHOICE and our integration with eMenuCHOICE. This is a great point-of-sale and dining services management software, and they are now offering a product called FreshMenus, which is a cycling list of menus that are dietician-approved. Really great recipes in there as well.
This last year, too, we've done more to build this integration with a social engagement app called Engage. This social engagement software is fantastic. If you want to learn more about how this social engagement platform can support your engagement programming, measuring the success of your engagement efforts, let us know and we can fill you in. One of our newest offerings is what we are calling Elderforms. This is an electronic document management solution in concert with our sister company, Worldview Technology Solutions. This system will allow you to manage all of your move-in paperwork electronically, including the obtaining of electronic signatures. Let me know if you'd like to learn more about that. Then finally, we are in the midst of launching the beginnings of ElderSmarts, which is our data management platform and data analytics system. Very exciting. For those of you that know me, I am all about data management here. Again, if you would like to learn more about how ElderSmarts can serve you and your organization, let us know.
All right, enough of the sales stuff here. Let's get into our webinar. Just a few notes before we begin today. You will all remain muted during this webinar. Please use the Question feature on the webinar control panel where you can enter your questions and we will address those as we can. Today, I'll be the question manager for our guest. Then a reminder, you will receive a link to the recording of this webinar about 24 hours after we adjourn our session today. You are always welcome to contact our presenters directly via email or myself as well, with your follow-up questions or anything else that we might be able to help you with regarding the topic or anything else to do with things here at Eldermark.
All right, today's topic. We've received quite a bit of interest in today's webinar. I think as I was telling some colleagues here, anytime you use the words regulation or regulatory in any kind of presentation, people sit up and take notice and today is no exception. Today, what's on the horizon for assisted living regulatory oversight? One expert's viewpoint. Then our promotion for today, we had planned on having my friend and professional colleague Jill Schewe, who is at NCAL after serving the Care Providers in Minnesota for many years. Jill had a family emergency come up. They're busy moving a family member into memory care and the challenges that go on with that. She said it was okay that we share that. I'm sorry that Jill isn't joining us.
However, we are so appreciative of LaShuan Bethea, the Executive Director at NCAL who has made herself available to join us today. Thanks a million LaShuan for stepping in. I can't wait to start our dialogue. With that, I think we are going to go on camera so that we can have this dialogue more face to face. There we go. All right. Welcome to Eldermark Leadership Forum webinar. Again, really great to meet you. Thank you for your availability today.
LaShuan Bethea:
Absolutely. Thank you so much, Mark, for having me.
Mark Anderson:
Coming from a senior living business line before joining Eldermark and even at Eldermark here, remaining pretty involved with NCAL. Myself, the organizations I used to work for were part of NCAL. Eldermark has participated as a business partner member in the past. I've spoken at conferences. I also want to say I served for a while as a senior reviewer in the awards program, the quality award program. That was very interesting. Anyway, now let's get about you. Maybe a little bit about you. I think I owe it to NCAL for our participants, for you to give them a little snippet of what is NCAL, what do they do for assisted living and then we'll get onto our outline.
LaShuan Bethea:
Sure. First of all, I want to say thank you for volunteering and participating and being a reviewer for the Quality Awards program. I know that that is a heavy lift and we are always appreciative when we have individuals that sign up to do the reviews. It is a commitment, so thank you for the time that you spent participating doing those reviews. A little bit about myself. I have been with NCAL for just over a year. I hit my one-year mark. Prior to that I worked for Genesis Healthcare. I was their vice president of legislative affairs. About a year prior, maybe a year and a half prior to departing Genesis, I also had a dual role. I was vice president of reimbursement as well. Then also about a year or so prior to leaving, I assumed the responsibility of heading the diversity, equity and inclusion initiatives at Genesis Healthcare.
I am a registered nurse by trade. I have worked in a variety of settings, both in acute and in post-acute as well as assisted living. The majority of the time I have worked in the nursing home sector. But again, I've done some acute care and worked in assisted living as well. I am also a licensed attorney for about the last couple of years or so. About 10 years ago, I decided to go to law school, not to be a litigator, but really to focus on policy and advocacy in the long-term care space. Anyone working in long-term care knows that there's a lot of oversight. There's a lot of regulation, whether it be at the federal level, which is what we see on the skilled nursing and nursing facility side or at the state level, which is what we see on the assisted living side. Having someone that has worked in these settings understands the operational impact of regulation.
It is really important that we have somebody sitting with our legislators and our regulators that can really help them understand what does it mean, how will this regulation impact not only the residents in our communities, but also the individuals that own and operate and work in assisted living settings.
Mark Anderson:
Well, when you talk about regulation as far as at the federal level, where do you see, then we'll get into more, but where do you see assisted living from the federal perspective fitting into the healthcare system here as we look to the horizon? I feel like there's going to be some changes. What do you see?
LaShuan Bethea:
You asked me and I cut short before answering that question, so I'll give you a two for one or maybe a one for one since you've already asked me this question. You asked me to tell you a little bit about NCAL and I'm sure that you're aware, but for those listeners on the phone or listening or watching the webinar, NCAL or the National Center for Assisted Living is really the assisted living arm of the American Health Care Association. NCAL and AHCA are one association representing two different entities within the post-acute care or senior living continuum. Both skilled nursing, nursing facility, home health, to some extent IDD, which is intellectually developmentally delayed population as well, and of course assisted living. We have over 14,000 communities and facilities that are within our association. About 5,000 of those are assisted living communities all across the country.
Really what does NCAL do? We really see ourselves as being the lead in promoting high quality, being principal and policy-driven. We really focus on making sure that there is a commitment to excellence amongst our members. That there is a focus on innovation, which is really essential right now in a time where we're seeing significant workforce shortages. It's going to take innovation to really figure out how do we problem-solve through that. But we also see ourselves as the leader on public policy, both at the federal level as well as supporting our state affiliates at the state level. Doing a lot of advocacy as well as educating or being an educational platform for not only the providers and the individuals that work for the providers, but also other entities like our regulatory bodies at the federal and state level, as well as the community at large that has questions about, what is assisted living, what do you do? That is a little bit about NCAL.
Now to your second question, which is probably the most important one of the two, which is what is on the horizon in terms of federal oversight or federal regulation of assisted living? The question often asked by providers or any individual that is interested in assisted living, what will happen? In the short term or currently and in the short term, CMS, which is the entity that typically will oversee a healthcare entity or a healthcare body, does not have oversight of assisted living. There is no assisted living division within CMS that oversees the regulatory compliance of assisted living. But I think it is really important for people to make the distinction or to really have an understanding that because there is no federal regulation of assisted living does not mean that there is no regulation. You can talk to any provider in the assisted living space and they will tell you that there is regulation at the state level that is really... They are surveyed similar to other settings to ensure that they are compliant with the state's minimum criteria around assisted living.
While there is no federal regulation of assisted living, and I don't see in the short term any federal regulation of assisted living because it will require some congressional action, they currently do not pay for assisted living. There is one caveat to that in that if you have a provider or a state that is participating in the waiver program and they consider assisted living a part of the home and community base, they consider assisted living as a part of that, then they will be receiving some Medicaid dollars. We do have a Medicaid division as part of CMS. They do have the ability to put out regulation that states then must comply with in order to be able to receive that funding towards the home and community based services that are provided in the state. Excuse me. In that respect, you could have some providers that do participate in the waiver program and they will be subject to comply with those regulations particularly where they are not voluntary or optional where they are required by CMS. I think we saw some of that with the home and community based settings rule.
Mark Anderson:
Indeed. Well, if we would take, I guess you could say the volume of regulatory oversight and trend it on a graph over the last 20 years, I think everyone would agree, we would see that arrow trending upward. Certainly I can speak mostly from what I know best, and that is the Minnesota climate where we've seen a significant change in the last couple of years. Where is that trend heading? Where do you guys see that trend heading there at NCAL? Like what's next? What's next in that territory of, well now I think we should oversee that functionality in assisted living. Is there any indicator for us about what to anticipate?
LaShuan Bethea:
Mark, I think you are 100% spot on in terms of that trend line. It is definitely increasing and I think we've seen a more rapid increase over the last couple of years for a couple of reasons. One, I think that the pandemic has done something that hasn't been done before. It has put assisted living on the radar, on the minds of not only people who live in our community by and large, but also in our state and federal government entities, which includes the regulatory bodies at the state and federal level and the legislative bodies at the state and federal level as well. As a result of that, I think there were some of these entities or some of these individuals who may have thought that assisted living is the same thing as nursing home. As these regulations were coming out telling nursing homes how to manage individuals with COVID, there might have been some perception that assisted livings were following the same regulations.
Not understanding one, that the structure is different, the staffing is different, the care that is provided is different. It might even be provided by different people in some assisted livings. They're not providing healthcare services. There's third party entities that are coming in and providing some skilled level of care. It's not provided directly by the employees of the assisted living. There was a lot of confusion about who does assisted living take care of? Who are the individuals? What are their needs in this space? Then who are the individuals that work there and do they have the ability to comply with the rules or new regulation in the same way that skilled nursing facilities does.
As a result of understanding that there is this distinction, there has been some legislative and regulatory attempt to say, "Okay, we recognize now that you are different and that you are not following the rules that are coming out by CMS because they don't necessarily apply. But we do think there needs to be some rules around things like infection control, around visitation and when people can come and around notifying family members and other visitors that, for example, COVID may exist in your community." They have legislated or regulated some of those rules, and so we've seen this rapid increase. The other thing that I would say that is causing some increase over time, and again, I think that COVID has had no different impact on this reason for an increase in regulation, which is that the acuity level or the medical complexity of individuals that are living in assisted living is very different than what it was 10 years ago.
While there's always been this slow increase in the acuity of assisted living, so I don't want to say it like it's new, I want to say that the increase or the increase in medical complexity has accelerated probably at a faster pace in more recent years than it has in the past. Just like nursing homes are caring for the hospital patient of 10 years ago, in some cases the nursing home resident of 10 years ago is in assisted living with some support coming from third party entities helping to meet their needs. As individuals are one, staying at their home and the larger community longer before they're transitioning to another setting like assisted living, they also want to stay in assisted living longer. Because there's been this crunch for hospitals to discharge people to nursing homes, we've seen some states want to say, "Well, are there things that we can do to also open the bandwidth of who can stay in assisted living and how long that they can stay?"
We've seen some states, either temporarily during the public health emergency and or consider doing it permanently, allowing nurses to provide some skilled care that was previously prohibited in that state from being provided. An example of that might be monitoring someone who's on oxygen where that may not have been allowed in the state or doing things like monitoring someone's blood glucose level in assisted living that may have been prohibited before. But they're saying it wouldn't be appropriate to necessarily discharge this person to another setting because they need oxygen at night or because they have diabetes and need a blood glucose check intermittently throughout the day. States have looked at what else can we do? Is there other skills that we can allow a nurse to perform in assisted living that we believe can be done safely in that setting? We do see some regulation or legislation being proposed that expands the scope of care in assisted living.
Mark Anderson:
Yeah, thanks for that. I've had a similar conversation with friends in my network on this topic about changing the roles, if you will, of traditional caregiver physicians. I'm on this thinking of bring back the LPN as part of a solution. It's something that I brought up in conversations. I remember I was in skilled nursing management back in the '80s and early '90s, and I think about what LPNs were able to do in resident care and staff management in those days. I feel like for whatever process has been undertaken, their role is so diminished. I love the idea of rethinking the role of the individuals who are working in these care settings. Do you see anything on the horizon where we might be maybe pushed in a good way to maybe do that? What are your thoughts about that, changing these roles even through regulation?
LaShuan Bethea:
As someone who was an LPN before I was an RN, LPNs are extremely underutilized in the assisted living space. They are used quite a bit in the skilled nursing and nursing facility space, but not so much in the assisted living space. As we again, try to be innovative and think about what are all the creative ways in which we can meet the workforce needs and allow what we call on the nursing side, people to work to the top of their license, using licensed practical nurses in assisted living really to some extent frees up registered nurses to work in some other settings by allowing some supplementation with licensed practical nurses. But it does require, I think, some education at the state level as to what licensed practical nurses can do on their own and or under the guidance of a registered nurse. I think that that is some of the education that needs to occur. I think that there are definitely discussions that are happening, at least at the affiliate level about what can we do and how can inhouse support expand use of licensed practical nurses in the assisted living setting.
Again, this is one of those environments where we really need to try to throw everything at the wall to see what sticks to meet the workforce needs, especially at a time where we know that the number of unpaid caregivers is declining drastically. In fact, 2020, 2022 have the highest number of people. When I talk about unpaid caregivers, I'm pretty much talking about family members and friends that care for people in their homes, that delays the time in which they have to transition to another setting. As we see the number of those people declining, at the same time we're seeing the number of people who are 70, 65, 75, 85... In fact, 10,000 people a day turn 65, 75 and will be turning 85 I think in 2025. A good bit of those people or a proportion of those people because an increase in dementia, because increase in medical complexity, will need some type of long term care. Not all of them will need assisted living, not all of them will need nursing homes, but they'll need some assistance. How do we solve that workforce crisis? LPN, I think is a part of that solution.
Mark Anderson:
Yeah, thank you for that. I have an ally in my little effort to bring back the LPN. Some of my favorite nurses were LPNs, LaShuan.
LaShuan Bethea:
Mine too.
Mark Anderson:
Is the definition of assisted living changing and if it is, who's influencing that or where's that coming from?
LaShuan Bethea:
I don't know that I would describe it as changing. The definition of assisted living is really different from state to state. What they're allowed to do. Who's allowed to work in assisted living. What the minimum requirements are. What types of care can be provided. I would say that there is some evolution. To your point, yes. Is there change occurring? I don't know that its across the board that it's going to ever look the same in every single state. Is there some evolution that is happening? Absolutely. I would be denying what I'm reading every single day to say that there is no evolution. But it is different. What that evolution looks like is really different from state to state.
When we talk about who is driving it, I would say the consumer. The residents and their families are really driving that desire for change because they are saying, when they have to move out of their homes or when they need some assistance, sometimes regardless of the medical complexities that may exist, they want their first stop to be in assisted living before they transition into another setting. Sometimes that's appropriate. Sometimes there are limitations which include regulatory limitations that say, if you require this, you cannot reside in an assisted living.
It's important to also understand that assisted livings do not provide 24-hour skilled care. That is one kind of line in the sand in terms of what is the difference between a skilled nursing or nursing facility and an assisted living. Skilled nursing, nursing facilities provide 24-hour skilled level of care. They have the ability to do that. In assisted living, that is not the case. It is important that as assisted living providers, we are clear to residents and families when they want to come into assisted living about what our limitations are. One, whether there are regulatory limitations because the state has said, you can only perform these functions within the setting or there's limitations because you don't hire the type of staff that is needed to safely monitor this individual.
We do have assisted livings that do hire nurses. That do, if the state allows it, provide some level of care, like we said, monitoring of oxygen and doing glucose checks. But then you have some communities that are in that same state that even though the state may allow it, they may not hire that type of individual. It is important that we're clear with the families and the residents that here's the services that we do provide, that we can or cannot contract with third parties to come in and provide some other services like physical therapy or something else that may be needed from time to time. But if that individual needs 24-hour skilled care, then the most appropriate place for them would be in the nursing facility or skilled nursing facilities.
Mark Anderson:
For sure. I feel though that consumers are increasingly struggling with that blurry line between assisted living and skilled nursing, where the consumer expectation is you can just take care of mom 24/7 in assisted living. I think there's still that consumer aversion to a skilled nursing setting. Let's be honest, whether that's well-placed or not, generally not, assisted living is the preferred skilled nursing setting for consumers. What kind of challenges is... I mean, that's a problem.
LaShuan Bethea:
Yeah, what I would say is that we really do have to communicate with our families and with the residents to set expectations around what we can provide here. My thoughts are the average individual, and this number I know is changing, I've been reading some information that says it's changing, but I would say pre-pandemic, the average person stayed in an facility setting around two years. The thoughts, the reasons why they might only stay there two years or why they leave after that, it might be advancement of their medical complexities. They might need 24-hour care. Having those discussions around, here's what we can do, and at this moment when mom or dad needs this level of care, we will need to be prepared to transition them to another setting that can provide that care more safely.
I think one of the best things that we can do as providers, owners, and operators and individuals that are in assisted living, is really to set expectations from the very beginning around what you can do, what you can't do, and what is the plan when you can no longer safely provide care to that individual in that setting. Make sure that everyone is on board and clear about what the plan is in terms of what can be done, how long it can be done, and what is the plan when we can no longer provide care.
Mark Anderson:
Yeah. Well, I think providers are really put into that role, aren't they? Where they're not only care providers, they're educators. They're advisors. They're consultants. They're healthcare planners. I mean, they're all of that for their resident customers, aren't they?
LaShuan Bethea:
Absolutely. All of those roles that they play are really critical to one, making sure that the resident and their family have a clear understanding and clear expectations about what they're going to receive in that setting and how long they're going to be able to receive it. Sometimes you have to do reminders as you see someone progressing or changing or their level of care changing. Revisiting that conversation, doing the reminders, making sure that everyone is still on board with what the plan is going to be. It's often not a one-time conversation. It is a conversation that needs to occur maybe multiple times over the course of that one or two years or up to three years or however long the individual might reside in that setting.
Mark Anderson:
Yeah. Well, I think it's good advice for our participants today. Be transparent. Be the educator. Don't assume your customers know this stuff. Be the expert that they trust. I think you're less likely to have that knock on the door with a problem if you can be more proactive that way. In helping support, and I can't help but go in this direction because I represent a technology company. But also when I was a provider, I was privileged to be able to incorporate technology into my work as a manager and operator. What do you see as maybe some helpful tools or resources within technology? What elements of that are really required to help that senior living provider in their compliance efforts? I guess I talk one example. I think one example would be a really comprehensive assessment tool, for example. I mean, what would be some other resources where if you were telling me at Eldermark or me from some other technology company, here's what you've got to have for our members so that they can really be supported in their compliance efforts. What would be some of that stuff?
LaShuan Bethea:
Sure. One of the things I think is really important in terms of awareness that assisted living providers have, is what is happening in the care continuum and how is that going to impact assisted living? There's been a lot of discussion before the pandemic and probably during the pandemic around the CMMI initiatives to make sure that 100% of Medicare beneficiaries and the majority of Medicaid beneficiaries are in an accountable care organization or in a Medicare Advantage plan. A lot of times I think that because assisted living is primarily private pay, we may be tuned out to what that means because we're not paid by Medicare. For the most part, our payment from Medicaid is really limited to those that are participating in the waiver program. We may not be in tune to how the requirements around care delivery is changing and what impact that can potentially have.
Well, when we think about the focus of that, why did CMMI, why did that division decide that they really want to focus in this direction? The primary reason is that they really want to transition to paying for care-based on quantity, how much is received or how many people are treated, to paying for care-based on outcomes, quality outcomes based on the type of care that the resident is receiving. Right now in assisted living, I think that one of the primary changes that we're likely to see, and it may or may not be directly in assisted living but it may happen through the insurers, is that there's going to be probably a lot more coordination of care to ensure that the quality of care and that outcomes remain consistent and are improving over time. I think that it is important that we as assisted living providers see what can we do or how can we one, collect data related to the metrics that are really important in terms of things like falls and rehospitalization.
Those are two key things that we know that many insurers pay attention to, that many providers pay attention to and residents and their families pay attention to. Do we know how we're faring in terms of items like rehospitalization, in terms of items like fall? Do we have the systems in place to improve those metrics over time? Because the better that we're doing from a quality perspective on those elements, the more easier that it will be for us to transition into a value-based system. That again, is something that is going to be happening around assisted living. Because again, we're not paid directly unless you are participating in some type of ACO, which facilitating providers might participate or some type of I-SNP program, which you could have the option to participate, and that might become more appealing over time.
But I would definitely say data is important. It really does allow you to measure how you're doing on a quality front end to make changes that can be approved over time because you have the data metrics in place. We do within NCAL have something called Trend Tracker where we do allow providers to document how they do on certain quality metrics. That is one choice, but there are many other choices that are out there in terms of how people can measure their key quality components and make improvement over time.
Mark Anderson:
It sounds like on that horizon, the savvy provider would do well to put systems in place so that they have a way to monitor and measure those quality indicators.
LaShuan Bethea:
Absolutely. On the home and community-based division of CMS, we know that they just came out with some quality metrics, which are applicable to the Medicaid waiver providers. Now at this point in time, those metrics are optional, so states are not required to adopt them. Now that may change in the future. Maybe, my thinking tells me that, one of the reasons that it might be optional is because we're still in the middle of the pandemic and states as well as providers are still trying to adapt to how do we solve for this workforce issue. But again, if you are thinking about getting into, if you are already participating in the waiver program or thinking about getting into the waiver program, it'll be important for you to understand what are the quality metrics that are being monitored, and more importantly, how do I do this?
Rather than taking a big bite all at once, it might be good to say, "You know what? Today we're going to have a system that just starts tracking our falls, and we're going to see what we can do to improve that over time." Then once you get good at it and your staff gets good at problem-solving on that front, then you say, "Hey, we're going to start tracking our rehospitalizations. Okay, now what can we do to do that?" Then just slowly add onto it as you have the bandwidth to do it and are able to do it safely. Of course, having software that makes it easier is always a plus.
Mark Anderson:
Yeah. Well, this reminds me and I just thought I'd mention for our participant studio, we're starting to see QAPI move its way into assisted living among some of our customers, the quality assurance performance improvement for our non-skilled folks. That whole process in more simpler forms than I think is perhaps initiated in skilled nursing. But we're starting to witness QAPI creeping its way and finding a good place actually within assisted living. I think not only as our customers are working to enhance their quality outcomes, but I think it's helping them perhaps drive efforts to serve their compliance plans and their policies and procedures related to compliance because of the quality indicators related to what regulatory oversight expects from their work.
LaShuan Bethea:
I would agree with that 100%. I think that the value and the focus on quality and assisted living, it's always been there, but it continues to grow. It continues to increase as individuals look at what are some other ways that we can really focus on quality. What are some other ways that we can make it easier for people to problem-solve, identify issues and problem-solve successfully in this area? Quality assurance improvement programs are one of those ways to do that. We see that type of structure, that process-oriented structure, that ability to identify problems and develop processes that solve those problems beyond you Mark, beyond me. But long after we're gone, we want those processes to be in place. We see those processes embedded in quality programs, whether it's a state quality program or whether it's third party entity quality program or accreditation program. They're looking at your ability to identify problems and develop sustainable processes that can ensure quality for the long term. I would agree with you 100% that using QAPI type of programs to get to that process-solving, process development, problem-solving method is a great way to get there.
Mark Anderson:
We're not that far from the start of a new year, LaShuan. If we're going to put you up on the stage in front of a big room full of assisted living providers, and the one question is, what would be some advice from where you sit for providers as they look to enhancing their compliance efforts in the new year, what would be some advisement coming from you slash NCAL to achieve that?
LaShuan Bethea:
Sure. I think we've covered clearly-
Mark Anderson:
It's a big question, I'm sorry. But-
LaShuan Bethea:
Yeah, it's a great question because I feel like we've covered a lot of the things that I would say which is one, focus on quality, whether it is developing systems that allow you to identify problems, data is really king or queen as people would say. It is really important. It's a critical piece in making improvements, know where you sit in terms of rehospitalizations and fall reductions and other key metrics from a quality perspective. I think the second thing, which again is something that we have talked about already, which is individuals that are coming into assisted living, they have more medical complexity than they had five years ago or 10 years ago. Make sure that one, you set clear expectations around what services that you can provide and what you can't provide. What are the limitations, whether those are regulatory limitations that are defined by the state in terms of what you can and cannot do, or they might be limitations because you have a different model of assisted living that you are providing.
You want to make sure, because there are so many different types out there, that the family member and the resident are clear about what services that you can and cannot provide. Just having that perspective, that's also helpful from a risk analysis and liability perspective. You are much less likely to get into any kind of challenges or trouble if you are very clear about what you can do and what you can't do and when you need to transfer that individual to another setting if they need a higher level of care. Just making sure that again, the residents and the families understand. Then the last thing is, I would say, in this climate it's most appropriate that COVID isn't likely going away. It is going to be here and we need to make sure that we are staying on top of our infection control and prevention criteria.
That we make sure that if we're hiring new staff into our communities, that they're aware of what they need to do. But also making sure that, again, we're educating our family and our residents around what is COVID. As time passes and the occurrences become less, people may forget or may become lax, and we just don't want to see a resurge. We don't want to revisit 2020 or even 2021 for that matter. We want to keep looking forward. I think it's important that we don't forget about COVID and where we've been and what things we need to do to make sure that we are doing everything possible to keep our residents safe as well as the employees that work in our setting safe as well.
Mark Anderson:
Yeah. Oh, thank you for all that. We've learned a lot in the last couple of years. Some lessons hard-learned unfortunately, but we have learned a lot to help guide us on the horizon. Thank you, Amelia. I have to cut us off because I feel like we could go the rest of the day and maybe-
LaShuan Bethea:
We could.
Mark Anderson:
... some of our participants would like us to go the rest of the day, but we just can't do that. I'm thinking maybe we make this as part one of a two or three part conversation. If you're willing to come back, you get both you and Jill in the same room and off we go. I just think these kinds of conversations are helpful and always lead to some kind of creative thinking from the insight, from your comments. Thank you again, LaShuan so much for stepping in today and being available. It was a real pleasure to meet you. I hope we get a chance to talk again soon. With that, I am really quite shocked that we have had no questions come in. Maybe I'll pause for a moment now just to see if suddenly the question box becomes flooded. But a really helpful dialogue this afternoon, LaShuan, on this topic. Again, we could go all day and I would like to go all day, but we can't.
LaShuan Bethea:
I don't know if people have the ability to submit questions after the fact, but if you do get questions after in the webinar, please don't hesitate to compile those and send them to Jill and I and we will make sure that you receive responses for the participant.
Mark Anderson:
Yeah, thank you for that. We definitely will follow up on any questions that come in after. Here's just a comment. "Thank you guys. Love the discussion about LPNs." Yes, thank you for that. "We are out here in the assisted living world." It looks like a response from an LPN within the participant group today, so thank you for that. We'll see what we can do. I'm a fan.
LaShuan Bethea:
You and I both. Absolutely. I love LPN.
Mark Anderson:
All right. Thank you again. Let's go off camera and we will close out our time together. Again, we really appreciate having LaShuan Bethea with us today. Let's go off camera. There we go. LaShuan's email is here on the screen for you, lbethea@ncal.org. I know that she would be happy to entertain your emails as they come in. All right, well, our next Leadership Forum Webinar is November 2nd at 12 o'clock Central Time. Watch for an announcement about that. You can also always sign up for this webinar series or any of the many webinars that we offer at eldermark.com. There's a webinars link up in the menu. You can have access to the entire webinar calendar as it's planned out quite far in advance. Thank you for joining us. Again, thank you to LaShuan from NCAL for being our guest today. Sincerely, appreciate those wonderful insights and thoughts on what's on the horizon for regulatory oversight.
If you need to reach me, my email is here manderson@eldermark.com. My mobile number is there as well. As well as our website. Thank you all for your participation today. Really enjoyed having you here and watch for the announcement of what's coming up in November. Thank you all for your good work. We'll see you again soon.