How Electronic Forms Can Improve Your Senior Living Workday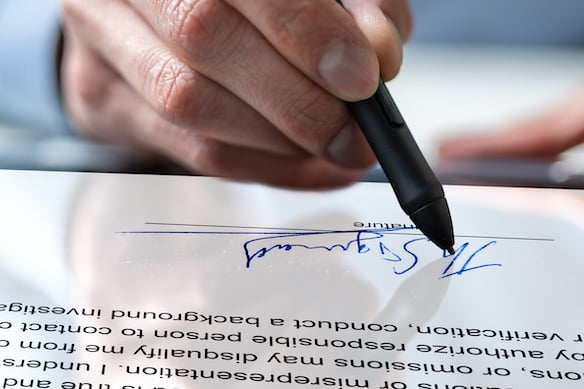 Imagine a paperless workday at your community, how could a streamlined workflow help your senior living team?
In senior living and assisted living, forms are a necessary part of life for residents and communities. To receive the best care, residents have to fill out a variety of intake forms, as well as forms to protect their privacy. Communities also need forms for billing, referrals, processing insurance claims, and more. These forms can get bulky and cumbersome, especially after a resident has been with a community for a while. But switching to electronic forms offers a valuable solution. Let's explore why assisted living software like this can be so valuable to your team.
What Are Electronic Forms?
Electronic forms, or EForms, are digital forms that can be stored and accessed electronically. They're not limited to resident forms. An assisted living community may also use EForms for lease signings, move-in questionnaires, order forms, HR forms, and data entry. An adaptable, built-for-senior living solution like ElderForms can work for any custom form a community may need.
These forms streamline operations because they are easily accessible when needed. Paper forms could go missing, causing a senior living team to spend hours looking for them when needed. During any potential compliance audit, a lost paper form could be stressful and costly for a senior living organization. With electronic records, staff members always have a paper trail for compliance, auditing, and more.
Choosing a Platform to Manage EForms
If a senior living community is already using custom forms and has established workflows of how signatures are collected, we advise teams to utilize an EForms product that's built with senior living operations in mind like, Eldermark's ElderForms.
Whether it's secure storage, tracking document paper trails for compliance purposes, the need to use custom forms per location, or just enabling residents to sign a document using a stylus or touchscreen, ElderForms has your senior living community's needs in mind.
Repurposing a document management or ESignature solution that's not quite designed to work specifically for the senior living space can be frustrating and create more work for your assisted living team than there was in the first place.
When you put your trust into software that's built with assisted living operations in mind, your team can work more efficiently and better serve residents. Plus, if a certain use case comes to mind, support from a team like Eldermark will understand the problem you're facing and can help you adapt the software to accomplish what you're looking for.
Hear more about the Eldermark difference, see why our senior living partners put their trust in our service and solutions.
Types of EForms
There are many different types of EForms a senior living community might make use of in a digital document management system:
Resident Registration Forms
With an EForm system, residents can fill out registration forms digitally during their first visit or when they're with their referring physician. This saves a resident time, because they only have to fill out a form once, and they can update it at subsequent visits rather than filling out a new paper form each time they see a service provider.
These forms can also be transferred from one party to another during referrals, speeding up the move-in process and offering a better resident experience.
Resident Agreement
Anyone operating an assisted living or senior living facility likely understands the hassle of managing resident forms and agreements separately. With EForms, a resident agreement or lease can be integrated with medical forms, helping ensure legal compliance and giving residents easy access to care, meals, and other coverage items associated with their stay.
Read more about the technology partnership between WorldView and Eldermark that helps bring ElderForms document management to senior living communities like yours.
Consider Making the Switch
Senior living and assisted living organizations that are still struggling with managing tons of paperwork can streamline their operations and make a paperless workday a reality by switching to a document management platform like ElderForms. Implementing this simple solution helps smooth practice operations and helps ensure compliance with multiple regulations while also making life easier for administrative team members.
Interested in seeing ElderForms document management in action? Want to see what's possible when your assisted living workday goes paperless? Schedule some time with our experts for a personalized demonstration.