6 Tips for Choosing a Senior Living CRM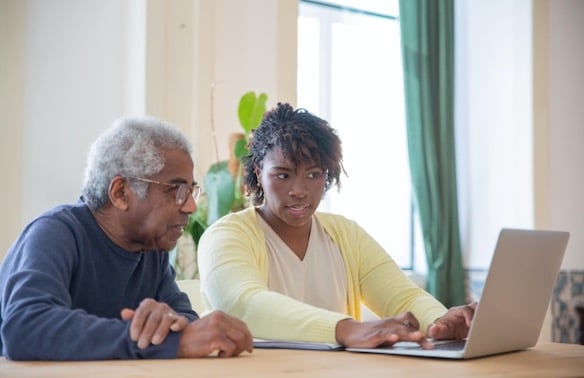 According to the CDC, the United States is home to over 30,000 senior living communities. Older adults and their families have many options, so communities need to market their services strategically. A top-tier senior living CRM can help your organization attract new residents and deliver the best care.
CRM is short for Customer Relationship Management. This software combines data analytics, marketing, and sales processes in one convenient package. A CRM makes it easier to track and improve your advertising efforts. Contact us today to schedule a free demonstration of our CRM.
What is the best CRM for senior living? Here are six qualities to look for when choosing a CRM.
1. Seamless Integration
Switching between multiple systems to complete tasks can create confusion and waste time for sales professionals. The best senior living CRM software avoids these issues by fully integrating into your operational systems. This feature lets you create a centralized hub for essential digital processes and records, including:
Communication workflows

Sales reports

Clinical electronic health records (EHR)

Electronic medication administration records (eMAR)

Billing software
An integrated CRM has many advantages. This system ensures data integrity because you can access all information about potential and current residents in one place. It also increases efficiency by streamlining marketing and resident move-in processes. Your staff can use the same system to generate leads, communicate with families, and gather new residents' EHR.
2. Ease of Use
You don't need to be a tech whiz to use an assisted living CRM. Look for user-friendly software designed with the needs of sales professionals in mind. Your CRM should have a simple interface and configurable dashboard that anyone can easily navigate.
Eldermark's senior living CRM has a mobile app so your team can access information from anywhere. Staff can update potential resident data while giving a tour, record a call while attending a conference, and review meeting notes from home.
Additionally, the best senior living CRMs offer convenient features like talk-to-text. This tool lets sales professionals create EHRs and connect with prospective residents from any location.
Finally, you should search for a CRM vendor that offers free training resources like tutorials and videos. These resources help your team learn how to use a new system and troubleshoot issues at any time.
3. All-in-One Marketing Tools
Many senior living communities use multiple marketing techniques to connect with future residents. But it can be challenging to keep track of leads and referrals. You may wonder if a specific lead came from a Google ad or your website.
An assisted living CRM with robust integrations takes all the guesswork out of your marketing plan. You can link your CRM with email automation, social media, your website, and other advertising tools. Syncing these systems makes it easier to monitor communication and track referrals. You can also nurture close relationships with prospective residents. Many older adults and their families want a friendly and responsive senior living community, so these features can make a big impact.
A high-quality CRM also automates marketing tasks. Eldermark's senior living CRM automatically populates leads into the system. It also records calls, so administrators can ensure that the marketing team handles referrals properly. These features decrease the time your staff spends managing databases and tracking calls.
Finally, your CRM should report an accurate return on investment (ROI) for all marketing expenditures. This data shows if you're meeting your goals and allows you to adjust your advertising plan as needed.
4. CRM Longevity and Stability
The senior living marketplace is constantly evolving. The AARP predicts that organizations will need to adopt new technologies as older adults increasingly use telehealth and other digital services.
Your CRM must keep up as technology and resident needs continuously evolve. Choose a system with adaptable features that can grow alongside your senior living community. Your CRM should integrate smoothly with the latest operational systems, so you never have to worry that it will be incompatible with new tools. And a CRM with a cutting-edge predictive analytics suite can help you respond to the latest marketing trends.
5. Actionable Analytics
You have a limited senior living community marketing budget, so you want to spend it efficiently. An assisted living CRM with actionable analytics helps you identify and implement effective sales and marketing strategies.
For instance, Eldermark's CRM tracks the number of leads generated by advertisements, email campaigns, and referral sites. The system also monitors communication, responses from prospective residents, and conversion rates.
These analytics let you pinpoint your most profitable assisted living marketing techniques. Plus, Eldermark's CRM has a dynamic sales pipeline that suggests the next steps. These resources enable you to refocus your time and money on the most effective methods. You can eliminate or tweak less successful strategies.
For best results, combine your senior living CRM with Eldermark's innovative ElderSmarts software. This technology generates data-driven insights about your organization's operations and marketing strategies. ElderSmarts aggregates records to track key performance indicators, such as:
Occupancy trends

Resident acuity

Staffing needs
Actionable analytics can have a huge impact on your community. This data can lead to higher occupancy, more staff, and overall higher resident satisfaction.
Learn more about how one organization used Eldermark's senior living CRM to build a right-fit digital marketing strategy for their community.
6. All-Inclusive Support Services
Your senior living CRM vendor can be a valuable resource for the life of your system. The top vendors go beyond simple tech support to provide all-inclusive marketing and web design services.
For example, vendors like Eldermark can help your team create and maintain a digital marketing strategy. They can also build and modify your website and run advertising campaigns.
Additionally, your vendor may offer onsite marketing training for staff. Eldermark can provide suggestions for improving tours and creating stronger first impressions for potential residents. By choosing a vendor that offers comprehensive marketing support, you can revolutionize your operations and boost your occupancy rates.
Streamline Your Digital Marketing With Eldermark's Senior Living CRM
Are you ready to find the perfect senior living CRM? Consider Eldermark's CRM, an elite system created by former senior living operators and nurses. We know the issues your team faces inside and out, and we've designed the ultimate solution for marketing for senior living. Contact us today to schedule a free demonstration of our platform.