Eldermark Adds Convenient ePay Portal to its Integrated Payments Program for Senior Living Communities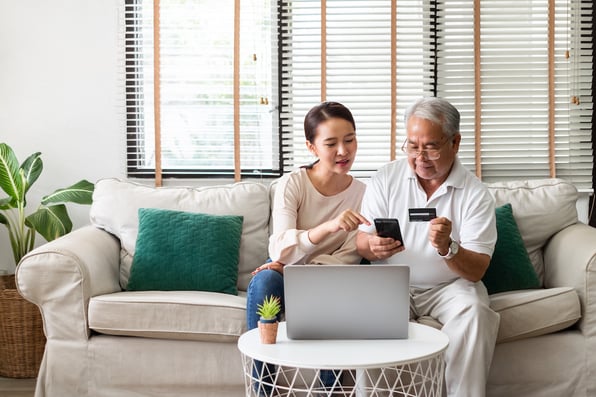 ePay Portal Simplifies Operations While Delivering a Convenient Payment Experience
MINNEAPOLIS, Minn., October 27, 2022 – Eldermark, an acclaimed healthcare technology provider for the senior care industry, today unveiled its new ePay Portal, a tool for senior living communities to provide easy access for residents to safely and conveniently pay invoices online.
With the portal, communities can simply add a link on their community website to enable residents and families to pay online. The ePay Portal empowers communities to accept credit cards, debit cards or ACH payments quickly and directly. This new tool will reduce reliance on paper checks, manual collections and payment reminders, all while streamlining agency operations to save time and resources.
"At Eldermark we believe that residents choose their senior living community for the convenience it brings to their life, and paying monthly bills shouldn't be an inconvenience," said Robin Jamison, General Manager of ePay for Eldermark. "ePay and the new ePay Portal provide residents with direct, digital payment options that fit their needs. Not only is this a feature that's demanded by residents and their families, it's also a significant efficiency gain for the senior living operations team."
Through Eldermark's ePay program, senior living communities will enjoy all the benefits of integrated electronic payments, including:
A streamlined experience with digital payments integrated directly into the Eldermark platform

Cost savings via flat-rate, transparent pricing

Improved cash flow with quicker access to cash

Highest payment security standards ensuring resident information is safe and secure

Simple, straightforward user interface.



With ePay, payers can create an account or search for an invoice to pay, as well as save their payer information and quickly access new invoices and payment history. Invoices can also be directly accessed through a "Pay Now" link in email notifications. Multiple payment methods including credit card, debit card and ACH can be saved to be used again in the future, and recurring payments can be configured for set-it-and-forget-it automatic payments each month.
The new Eldermark portal is now available to all Eldermark ePay customer communities. To learn more about the ease, convenience, and benefits of integrated payments, visit eldermark.com/epay-payment-processing.
Interested in getting your community paying online through your ePay payment portal? Learn how it can improve cash flow, simplify things for both residents and your staff and improve the payment experience. Let's talk about your ePay Payment Portal.
About Eldermark
For nearly thirty years, Eldermark has empowered senior living leaders to work more efficiently, capture new or missed revenue, and proactively manage their communities. Our technology solutions can help you deliver a measurable ROI on workflow process improvements, work more efficiently, and generate actionable insights so you can focus your time, energy and money on what truly matters – delivering superior resident experiences. To learn more, visit Eldermark.com.