EHR vs. EMR vs. EMAR: The Key Differences to Know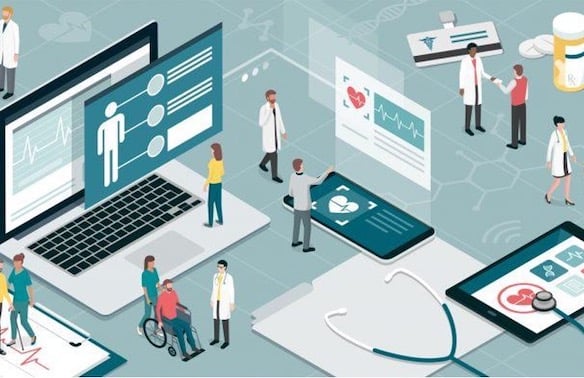 The healthcare industry has seen rapid digitalization in recent years, specifically with electronic records, the senior living sector is no different. As providers and communities look to streamline workflows and coordinate between parties in their healthcare ecosystem, the data provided by electronic records is critical to informing clinical decisions and enhancing resident care.
In senior living communities — where residents require more frequent treatment and medication — the need for electronic records is even more paramount, and their use is quickly shifting from being a trend to becoming standard practice.
Would you like to discuss with a senior living software expert the differences between, EHR, EMR, and EMAR? What would be best for your organization? We can walk you through it!
Understanding Each System
Three key components of the healthcare and senior living industry's digitization are electronic health records (EHR), electronic medication administration records (EMAR), and electronic medical records (EMR).
Although some providers and assisted living organizations use these terms interchangeably, they have distinct features and purposes, and understanding their unique roles is important in determining which system is best for your residents, operators, and communities.
EHR — Electronic Health Records
In senior living, an EHR is a comprehensive digital version of a resident's medical history. EHRs are curated across various healthcare providers, such as primary care physicians, specialists, clinics, hospitals, LTC communities, assisted living communities, and pharmacies. The main goal of an EHR is to facilitate the sharing and exchanging of health information among authorized healthcare providers.
Some key features of EHRs include:
Interoperability: EHR systems are designed to interact and communicate with other healthcare systems, enabling a spectrum of providers to securely and efficiently share health records.
Decision support: EHRs offer clinical decision support. For example, the EHR alerts for drug interactions or reminders for preventive care, providing caregivers with the most updated information to make informed decisions.
Comprehensive resident information: EHRs provide a detailed overview of a resident's medical history, including diagnoses, medications, lab results, and immunization records across multiple healthcare providers.
Resident engagement and support: EHRs enable residents to access their health records, schedule appointments and communicate with their healthcare providers through secure portals.
In assisted living communities, there are several key benefits of using an EHR, including boosting efficiency, reducing errors, protecting residents' health, and increasing profitability.
EMR — Electronic Medical Records
In assisted living, an EMR is essentially a digital version of a resident's paper-based record. In other words, they're electronic versions of traditional paper charts. They provide some of the same data as EHRs and have features like decision support. However, unlike EHRs, EMRs are comparatively limited in scope as they are only used inside a single healthcare provider's office or institution. They contain information about a resident's medical history, treatment, and progress within that specific practice or community.
EMRs can help reduce human errors, streamline workflows, and quickly provide authorized users access to medical information. However, because they are on a closed network, EMRs are restrictive since their scope of data availability and sharing can be limited to one community or senior living organization.
EMAR — Electronic Medication Administration Records
An EMAR is the digital record of the medications administered to patients in hospitals, and residents in nursing homes, senior care centers, and assisted living communities. EMARs are essential for ensuring resident safety and reducing medication errors.
Some key features of EMARs include:
Real-time tracking: EMARs document the administration of medications, including the medicine, time, dosage, route, and any observations or side effects.
Barcode scanning: EMAR systems can use barcode scanning technology to verify the correct medication, dosage, and resident information. This ensures the "five rights" of medication administration — the right patient, right medication, right dose, right route, and right time — are always met.
Alerts and reminders: EMARs can generate and send alerts for missed or late medication doses and notify healthcare providers or caregivers at an assisted living community of allergies, drug interactions, or other potential complications to a resident's health.
Reporting and analytics: EMARs provide data for analysis, helping healthcare organizations and senior living communities identify trends, track medication adherence, and monitor resident safety.
The Differences Between EHR vs. EMR vs. EMAR
Knowing the key differences between EHR, EMAR, and EMR systems is critical to selecting the best assisted living software for your senior living communities. The following chart breaks down the main features of each system:
| | | | |
| --- | --- | --- | --- |
| DIGITAL RECORDS SYSTEM COMPARISONS | EHR | EMAR | EMR |
| What is the system? | Electronic Health Records | Electronic Medication Administration Records | Electronic Medical Records |
| What's the purpose? | Real-time curating, sharing, and exchanging comprehensive health records (medical history, vital signs, diagnoses, medications, immunizations, allergies, test results, imaging reports, etc.) with multiple providers | Real-time tracking of medication records, including prescription, administration, and reaction, while safeguarding against human errors, complications, delays, and missed doses | A digital version of paper records, streamlining internal workflows and improving efficiency within the scope of a single healthcare provider |
| Who's authorized to use it? | Administrators, operators, doctors, nurses, clinicians, residents | Administrators, doctors, nurses, pharmacists, clinicians | Internal administrators, operators, doctors, nurses, caregivers |
| Where are they common? | Hospitals, clinics, senior living communities, assisted living residences | Hospitals, clinics, pharmacies, senior living communities, assisted living residences | Private practices, specialized clinics and healthcare facilities |
| Do they reduce human error? | Yes | Yes | Yes |
| Do they enhance resident care and safety? | Yes | Yes | Yes |
| Do they boost efficiency? | Yes | Yes | Yes |
| Are they HIPAA-compliant? | Yes | Yes | Yes |
| Can various providers access the data? | Yes | Yes | No |
| Is the information easily sharable? | Yes | Yes | No |
| Is there web-based cloud storage? | Yes | Yes | No |
Which System Is Right for Me?
Integrating electronic systems in your assisted living communities is an investment for the future. Software solutions enhance resident care and safety and are key factors in improving operator experience, scaling mission-driven communities, and increasing profits.
The decision of which system is right for you will depend on factors like your budget, the size of your operations, and the needs of your community. Whether you're looking to digitize your internal records or join the growing network of assisted living communities using EHR and EMAR systems, Eldermark's senior living software solutions have the answer.
Developed by former operators and one of the most trusted names in senior living solutions, Eldermark provides comprehensive EHR and EMAR systems to meet the needs of any community, big or small.
ServiceMinder, our centralized EHR software, will save time, reduce costs, streamline data, and enhance your community's workflow. Additionally, our EMAR software system simultaneously creates efficiencies while improving residents' and employees' safety, satisfaction, and well-being.
Schedule a personalized demo of the Eldermark platform today and discover how our systems can be your solutions.