Guide to What Is an EHR and the Benefits of Using It in Assisted Living Communities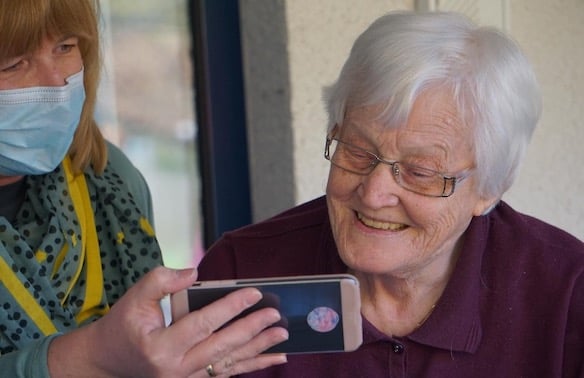 People typically don't think of senior living communities as data hubs, but these organizations collect and generate vast amounts of information. Detailed electronic health records (EHR) help caregivers and providers meet the residents' complex needs. A comprehensive assisted living EHR software solution gives you the tools you need to create, maintain, and share these records.
Investing in a quality senior living EHR benefits every member of your community. But choosing the right software for your organization can be challenging. Let's take a closer look at EHR benefits, factors to consider when selecting an EHR system, and other common questions about this software. Schedule a personalized demo to get started.
What is an EHR?
EHR refers to clinical electronic health records. These digital files contain vital information about a resident's health history. Instead of relying on faxes or paper records, caregivers can instantly transmit and retrieve health records through secured networks.
Here are a few types of information frequently found in EHRs:
Allergies

Billing information

Diagnoses

Discharge instructions

Laboratory results

Medications

Referrals to specialists

Treatment plans

Vaccine records

Vital signs
EHRs prevent information silos. Professional caregivers can share health records with other providers and organizations, like emergency departments and hospitals. For example, a senior living community can share EHRs about a resident's medication regimen with their primary care provider.
Many senior living communities have adopted EHR software solutions as healthcare technology advances. A recent report by LeadingAge found 66% of large senior living communities used EHRs in 2022. The pandemic and the growth of telehealth have accelerated the need for this software.
Top Three Benefits of Using EHR in Assisted Living Communities
Using EHR has many advantages for assisted living communities. Most importantly, this technology improves residents' experiences by ensuring they receive proper care. But EHR also provides significant benefits for professional caregivers and senior living organizations. Here are the top three reasons to adopt EHR in your assisted living community today.
1. Boost Efficiency
Time is a valuable — and often scarce — resource in an active senior living community. Professional caregivers want to maximize their time interacting with and caring for residents. EHR software solutions are one of the best ways to improve efficiency.
For example, EHR software like Eldermark's ServiceMinder can streamline workflows by:
Allowing caregivers to search for specific records in seconds, eliminating the need to dig through a filing cabinet for old paper records

Automating tasks like sending referrals

Eliminating time spent deciphering messy handwriting from clinicians

Getting rid of duplicate processes

Linking billing, resident records, and other data
These benefits ensure that caregivers spend less time filling out tedious paperwork and more time supporting residents.
2. Protect Resident Health
Assisted living residents often have complex medical conditions and require post-acute care. EHRs provide real-time updates, so professional caregivers always have access to the most accurate medical information. This feature protects residents by reducing medical errors.
For instance, an EHR can integrate with a resident's electronic medication administration records (eMAR). Caregivers can check this data to verify that they're dispensing the correct dosage.
3. Increase Profitability
Many senior living communities lose money because of inaccurate billing practices and service creep. EHR software protects your organization's bottom line by documenting every service as it occurs. Eldermark's software solutions capture around 1,600 undocumented solutions per quarter, significantly increasing revenue for customer communities.
Five Considerations When Looking for an EHR System
Selecting the best EHR assisted living software doesn't have to be stressful. Here are five considerations to help you find the right fit.
Comprehensive services:

Save time and reduce errors by selecting an EHR system that reports on every part of resident care, from billing to medication administration.




Ease of use:

You don't need to spend a long time training staff to use EHR software. Look for a system with a user-friendly interface that caregivers can learn quickly.

Automation:

A top EHR software automatically updates necessary forms throughout your operations as you input data. This convenient feature significantly reduces the time spent on data entry.

Customer support:

Your relationship with your EHR software vendor shouldn't end after your purchase. Choose a product that comes with lifetime customer support and online training services.

Cloud-based storage:

Authorized users can access an EHR anywhere with HIPAA-compliant cloud-based storage.
Senior Living EHR by Role
EHR improves workflows for every member of your long-term care team, including:
Clinicians:

They can quickly access, update, and share EHRs from the convenience of their tablet or laptop when visiting resident bedsides. EHRs also record point-of-care testing, so clinicians don't need to fill out paperwork later.

Nurses:

In one case study, the

American Nurse Journal

reports that implementing EHR tools saved nurses 30 minutes when entering data and sending referrals.

Occupational and Physical Therapists:

These experts can use EHR software to document clinical notes and generate custom treatment plans quickly.
How To Implement an EHR at Your Senior Living Community
Setting up an EHR system takes careful planning, but you can implement this technology with minimal disruption to your daily operations. Essential steps include:
Ensuring you have compatible and updated computer hardware

Migrating data from your legacy system to the EHR software

Training staff

Sunsetting your old system

Testing the EHR platform before going live
Eldermark's expert support team has made the transition easy and worry-free for assisted living organizations around the country.
Exploring Other Assisted Living Solutions That Integrate With an EHR
You can integrate EHR software with other innovative solutions to improve care and maximize efficiency. For example, the Point of Care mobile application allows caregivers to update medical charts on the go. This solution automatically uploads data into the EHR system so that you can track tasks in real time.
WISDOM2ACT™ is another convenient and potentially life-saving tool. A caregiver can use a mobile device to track a resident's condition and instantly alert their clinician to adverse changes. This software improves care outcomes by allowing staff to intervene quickly.
Frequently Asked Questions About EHR Software
Are you interested in learning more about using EHRs in your community? Here are three common questions about senior living EHR software.
Is EHR software complicated to use?

Like all technology, EHR software requires some training to get the hang of. However, you can ease the transition by selecting a system with accessible and user-friendly features. Some vendors, including Eldermark, provide training and resources.

Does EHR software comply with HIPAA regulations?

Yes, EHR solutions ensure data integrity and privacy. Only authorized users can access the system, so you'll comply with regulations.

How can I find the best EHR software?

Schedule demonstrations with several vendors to find the right fit for your senior living community.
Eldermark's expert team provides free, personalized demonstrations of our ServiceMinder EHR software and other solutions.
Contact us today to get started.