How Can EHR Reduce Medical Errors? (with Real-Life Examples)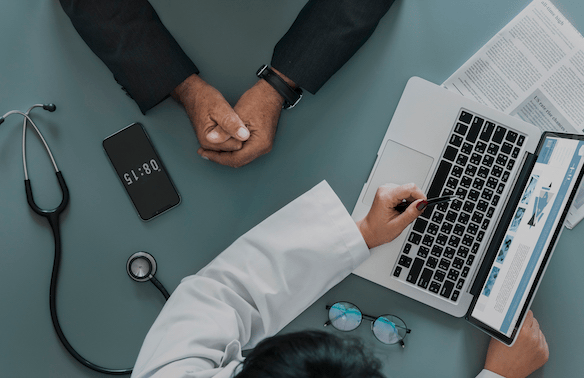 In March 2023, a Washington, D.C. nursing home came under fire after a staff member mistakenly gave a resident another person's Lisinopril, causing a near-fatal allergic reaction. Incorrect drug administration and other preventable medical errors frequently occur in senior living and assisted living communities. Many healthcare organizations promote electronic health records (EHRs) as a solution to these issues. But how can EHR reduce medical errors?
EHR systems have many valuable features that improve the quality of care and protect resident safety. This article explores real-world case studies of medical errors and explains how EHR software helps healthcare professionals avoid these mistakes.
Interested in how an EHR can bring tangible improvements to resident care and operations at your community?
What Are Medical Errors?
The term medical error refers broadly to mistakes that occur when a person receives healthcare. These errors can happen if a staff member performs the incorrect action, like administering the wrong drug. They also happen when a professional forgets to take care of a task, like adding a new diagnosis to a resident's electronic medical records (EMRs).
Common examples of medical errors include:
Adverse drug events

Catheter-associated urinary tract infection

Chemotherapy errors

Improper medication administration

Inaccurate documentation leading to the wrong treatment

Incorrect diagnoses

Prescribing mistakes
The stakes are high in healthcare, and mistakes often lead to tragedy. Experts estimate that medical errors lead to the deaths of around 100,000 to 250,000 Americans annually. These errors also damage an organization's reputation and may result in costly fines.
Many medical errors occur in emergency departments and intensive care units, but senior care homes aren't immune to this issue. For example, research shows that around 75% of senior living residents could be receiving potentially inappropriate medications.
How Can EHR Reduce Medical Errors?
No senior living home wants its residents to become part of these alarming statistics, but even the most skilled professionals can make mistakes. Burnout and staffing shortages are a reality of our industry and can increase the risk of dangerous slip-ups. Luckily, EHR technology can help organizations catch and prevent medical errors, and continue to provide amazing care for their residents.
An EHR is a digital record of a resident's health data that travels securely between providers. EHRs help healthcare professionals communicate medical information and ensure that residents receive accurate and prompt care.
Here are three ways EHR can reduce medical errors in senior living communities and other healthcare settings.
1. Prevent Drug Administration Mistakes
Many seniors have multiple chronic health problems that require them to follow complex medication regimens. Almost 20% of older people take 10 or more prescriptions. As a result, staff in large assisted living communities may need to dispense hundreds or even thousands of pills during a single shift.
As the number of medications increases, so does the risk of human error. For instance, drug interactions can cause harmful side effects, or a senior living professional may forget to give a resident one of their drugs.
One case study found that emergency departments that used EHR had 50% fewer medication errors than departments with traditional medical records. EHR was particularly effective at preventing allergic reactions to medication, detecting wrong administration methods, and flagging incorrect dosages.
In senior living communities, EHRs and electronic medication administration records (EMARs) can prevent drug administration errors by:
Automatically requesting refills from the pharmacy

Flagging duplicate prescriptions

Instantly updating records when primary care providers prescribe new medications

Maintaining the community's medication inventory

Sending notifications to staff about missed dosages
These features ensure residents get the correct medication and increase efficiency by streamlining workflows.
2. Eliminate Handwritten Documentation
You've probably heard jokes about doctors having messy handwriting. But anyone who has spent time decoding handwritten charts and prescriptions knows this issue is no laughing matter. Illegible records cause serious medical errors.
In one case study, an elderly man received a handwritten prescription for Rythmol, a medication commonly used to treat cardiac arrhythmia. The pharmacist misinterpreted the doctor's handwriting and gave the patient Synthroid, a drug for hyperthyroidism. The patient took the incorrect medication for two weeks and began to experience symptoms like irregular heartbeat and nausea. Fortunately, his doctor caught the error, and the patient's symptoms subsided after he began taking the correct medication again.
EHRs improve data accuracy by replacing handwritten information with computerized physician order entry (CPOE). This technology can also automatically detect errors like duplicate prescriptions. One study found that EHR technology helped identify 147 errors in 305 prescription orders for pediatric patients.
Additionally, EHR systems flag potentially incorrect information, like the wrong dosage for a person's weight. As a result, senior living professionals spend less time trying to interpret handwritten notes and double checking that providers prescribe the correct medication.
3. Promote Effective Communication Between Healthcare Professionals
Seniors often rely on a large care team to meet their needs. A recent study found that 30% of Medicare recipients visit five or more specialists annually. These clinicians often work for different organizations and healthcare systems. Medical errors can occur when information doesn't get communicated smoothly between residents, providers, and senior living teams.
For example, a Canadian nursing home came under fire for failing to vaccinate a resident against COVID-19 after the resident's daughter requested that they receive the injection. The organization had misunderstood public health guidelines and falsely believed that they couldn't dispense the vaccine to a single resident. As a result, they had to place the unvaccinated resident into isolation after other seniors in the community contracted the disease, enraging the resident's family.
EHR technology eliminates awful scenarios like this by promoting more effective health information exchange. The software transmits records securely between providers and assisted living homes. As such, staff can alert healthcare providers to their concerns about residents and view medical history updates in real-time. Organizations that use EHR have better communication, experience fewer medical errors, and provide faster treatment.
Plus, many senior living EHR systems have resident portals. This convenient feature allows seniors and authorized family members to view lab results, prescriptions, referrals, and other health data. Residents can verify their information and alert assisted living staff to any mistakes.
Preventing Medical Errors With EHR Software
Everyone makes mistakes, especially in fast-paced and stressful environments like senior living communities. But a forgotten prescription or missing record can lead to catastrophe for vulnerable residents. Fortunately, health information technology like EHR data reduces the occurrence of medical errors. Plus, senior living professionals feel more relaxed when they can rely on software to perform safety checks.
Eldermark's ServiceMinder EHR software eliminates human error and improves communication between care providers. Staff can access the cloud-based platform from any location, making it easy to update records. Read testimonials from our senior living clients and contact us today to schedule a free demonstration.