Electronic Forms: 5 Advantages and Disadvantages of Going Digital
Text messages on mobile phones instead of a phone call? Apps, emails, and HTML? WordPress, e-commerce, and electronic media? These days, you have to go digital or go bust.
That's the choice virtually every business will face in the next decade, and according to the World Economic Forum, those that don't embrace digital transformation as part of their everyday lives and operations are bound to fail.
In the assisted and senior living sector specifically, digital solutions have already made their presence felt, increasingly standardizing technological dependency: As of now, choosing the best assisted living software is practically a requirement, one that in turn requires several important considerations. Today, we're focusing on a specific element of senior living software solutions: electronic forms like those offered by Eldermark.
What are they? What's their purpose? And what are the drawbacks and benefits of using electronic forms as part of modern communication?
Exploring a transition to electronic forms and digital document management? See how quickly your community can go paperless and start processing all of your forms digitally.
What Is the Purpose of Electronic Forms?
Electronic, digital, or virtual forms are an exciting new form of record-keeping and communication technology: documents you can fill out, sign, submit, and store electronically, sometimes even via mobile devices. Their primary purpose is to replace traditional paper forms, the long-time cornerstone of institutional administration.
Electronic forms provide a more efficient and environmentally friendly way to collect, process, and share a large volume of data and other types of information via telecommunication. You can easily access them through various devices such as laptops and smartphones, making them a convenient and versatile form of communication.
Many senior and assisted living communities use many forms in their workflows, some of which typically include:
Lease agreements

Disclosure documents

Resident intake and move-in

Acuity and needs assessments

Physician referral and examination
Let's take a quick look at the advantages and disadvantages of this type of communication.
5 Electronic Form Advantages and Disadvantages
Benefits of using electronic forms may vary. Transitioning to any new system is always going to have some pros and cons, and introducing electronic forms in your senior living community is no different. While the advantages of electronic communications usually outweigh the drawbacks, it's still important to carefully consider both sides:
Benefits
Remote access and flexibility:

Any authorized user can quickly access electronic forms anytime, anywhere. The flexibility of this wide coverage eliminates wait times by providing instant access to the information. Cell phones, social media, and other forms of electronic devices all contribute to this flexibility of access.

Cost-effective and environmentally friendly:

Electronic forms like those offered by Eldermark save money by cutting down on printing, physical distribution, and paper storage costs. Since paper waste is significantly reduced, low-cost e-forms also contribute to more sustainable organizational practices.

Automated functionality and accuracy:

Many digital forms have added functionalities like automatic fill-ins, data validations, and automatic calculation of prices on invoices. E-forms also eliminate human error and ensure the data recorded is valid and accurate. For example, online systems won't accept invalid email addresses or phone numbers, thus improving the overall accuracy of the forms.

Seamless workflow integration:

You increase efficiency by easily

integrating e-forms into workflows

. This makes the process seamless with no disruption to any existing operations.

Security and compliance:

Top software solutions will ensure any electronic document or digital communication is encrypted and secured behind a firewall. As an added benefit, digital forms ensure you comply with data protection regulations and safeguard against sharing sensitive information.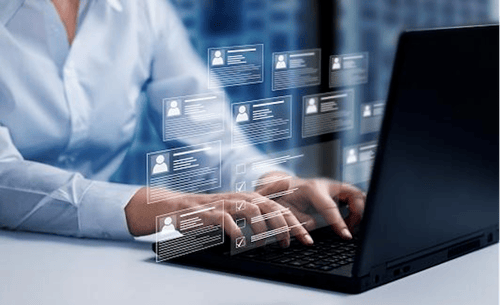 Drawbacks
Technical Issues:

As with any technology, the possibility of technical glitches and issues can always be a disadvantage of electronic communication.

Dependence on electricity and an online connection:

Since most software solutions are cloud-based, accessing and sharing digital forms requires electricity and an Internet connection, which aren't always guaranteed.

Learning Curve:

Operators, caregivers, and residents must undergo a learning curve when introduced to new technology, sometimes causing frustration in the early stages of a transition.

Security risks:

Although electronic forms are encrypted and typically considered secure, the possibility of computer network breaches and vulnerability to hackers isn't a risk any software company can eliminate entirely.

Loss of personal touch:

One of the reasons paper forms have stood the test of time is people may enjoy the experience of filling them out. While convenience and efficiency are excellent reasons to switch from paper to electronic, some people simply prefer the personal touch of filling out a paper form in the traditional way.
Can You Convert Paper Forms to Electronic Forms?
Yes, and with Eldermark's senior living software solutions, you can do it seamlessly and effortlessly.
Our ElderForms and eSign software helps you digitize all your assisted living community forms, gather e-signatures, speed up processing, and do it all by integrating e-forms into existing workflows.
Check out this webinar to find out more about how the assisted living sector is saying goodbye to traditional pen-and-paper records!
Paper forms may have a sentimental place in our hearts as one of the last vestiges of the analog era, but as the digital transformation continues, it's time for healthcare providers to take the paper out of "paperwork."
If you want to learn more about how Eldermark can enhance your senior living community operations, schedule your personalized demo to make the workday paperless in your community.