Everything to Know About CRMs & How to Select a CRM for Your Senior Living Community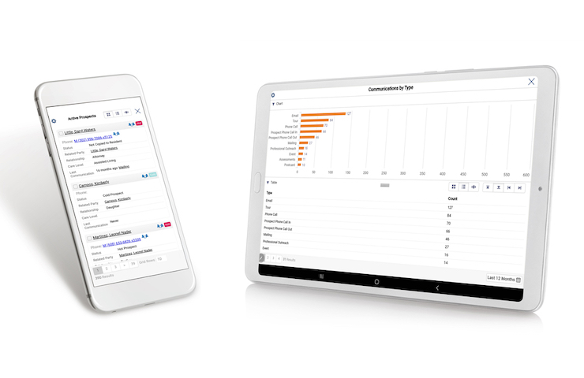 Building strong relationships with senior living residents is an ongoing process that starts long before move-in day. Potential clients want to join assisted living communities that make them feel welcomed and valued during every interaction. But keeping track of leads and information about each contact, their needs, and what they're looking for can overwhelm even the most experienced sales professionals. Fortunately, a CRM built for senior living can simplify these processes.
CRM is an abbreviation for customer relationship management. Senior living communities can use CRM software to streamline communication and marketing workflows. Discover everything you need to know about CRMs and strategies for choosing the right software for your organization.
What Is a CRM?
Let's start with the basics. Customer relationship management (CRM) is a tool that sales professionals use to collect data about prospective clients and promote interactions. CRM helps with every step of the sales process, from advertising to move-ins and beyond.
Here are just a few of the many ways that senior living communities can implement CRM technology:
Automatically populate a database with information about leads.

Monitor a social media campaign's return on investment (ROI).

Predict future occupancy trends.

Prompt sales professionals to respond to unanswered emails and phone calls.

Record the preferred contact method for each potential client.
A CRM increases efficiency by reducing the number of mundane tasks that sales professionals need to juggle every day. With this technology, marketers can say goodbye to convoluted spreadsheets and tedious data entry tasks. Instead, they can focus their attention and time on wooing potential residents.
Benefits of Using a CRM for Your Assisted Living Community
Recent studies demonstrate that CRMs provide many advantages for senior living communities, assisted living organizations, and other healthcare teams. For example, this technology has proven to:
Build loyalty and trust between clients and organizations

Streamlines day-to-day work by enabling sales and marketing teams to schedule tours and complete other tasks online

Enable better communication between assisted living organizations, providers, and potential residents

Simplify the resident move-in process
Additionally, a CRM boosts occupancy rates by ensuring leads move quickly and smoothly through the sales pipeline. Many clients want to move into their new homes as soon as possible, and a CRM helps sales professionals deliver speedy and personalized service.
How To Use a CRM To Increase Sales
The senior living market has become more competitive after the onset of the COVID-19 pandemic. According to the National Investment Center, senior housing occupancy levels have only partially recovered from pandemic losses. CRM software can help your assisted living organization boost sales and increase occupancy rates.
Here are five ways that you can use CRM to maximize sales revenue:
Automate lead nurturing tasks, like sending follow-up emails to people who have visited your website.

Gather in-depth data about clients so your sales team can deliver personalized sales pitches.

Maintain a waitlist and promptly contact interested leads whenever space becomes available in your community.

Improve your website's search engine optimization to increase traffic.

Track referrals and focus your resources on the most successful sources.
These strategies will help your organization close more sales and meet performance goals.
Interested to learn more about how these sales and marketing strategies are helping senior living teams reach their occupancy goals? Grab our eBook that walks through the top assisted living marketing tactics and software capabilities.
How a CRM Supports Marketing
Today's senior living communities can choose from a vast array of advertising strategies. For example, marketing professionals can launch an email campaign, purchase Google advertisements, or produce content for social media sites like Facebook. A CRM can support your marketing efforts at every stage.
You can centralize your digital marketing campaigns by linking your CRM software to your email, referral sites, social media accounts, and website. The technology can automate tasks like sending emails to a mailing list, posting on Instagram, and gathering information from visitors to your website.
Plus, the best CRM tools automatically track performance trends so you can easily determine which tactics generate the highest ROI. For instance, you may realize that 80% of your Facebook posts generate engagement, but only 10% of your emails get clicks. Based on this information, you may channel your resources into social media or revamp your email campaign.
There's no such thing as an unlimited marketing and sales budget. Our CRM and marketing experts recently ran a webinar on the marketing trends, strategy and market dynamics that assisted living teams should be focusing on as they develop the right-fit marketing strategy. Watch the webinar here.
Key Features To Look for in a CRM System
Shopping for a CRM for assisted living can seem intimidating, especially if you aren't familiar with the latest technical or sales jargon. You can simplify your search by looking for software with these handy features:
The ability to easily integrate the CRM with your existing systems, such as electronic health records

(EHR

)

and electronic medication administration record (

EMAR

)

software

An accessible dashboard that staff can learn quickly.

Automated workflows

Comprehensive support services

Data analytics tools to assess and forecast trends

Training resources, like webinars created by the vendor.
Eldermark's sales CRM has all these benefits and many more, so it's a great place to start your search.
Why Mainstream CRMs Don't Always Work for Senior Living
Many companies repurpose general healthcare CRM software for senior living communities. However, these mainstream systems often overlook the unique challenges faced by senior living organizations.
For example, mainstream medical CRM software often focuses on clinical operations, while offloading financial processes to separate tools. A CRM designed for senior living, like Eldermark's, centralizes clinical and business operations so that you can manage everything on one convenient platform.
5 Tips To Get Your Team Using a CRM
Change can be scary, but you can get your team to embrace your new CRM with these simple tips:
Ask the vendor to provide staff training courses.

Be transparent with sales benchmarks and goals.

Ensure that you have ample staffing during the transition period.

Select a CRM with 24/7 support services.

Supply resources like Eldermark's

digital marketing ebook

.
Frequently Asked Questions About CRMs for Senior Living Communities
Here are three common questions about senior living CRM.
1. Can I test CRM software before making a purchase?
Many vendors, like Eldermark, offer a free demonstration. Ask your sales representative if they provide this service.
2. What other products can I use with a CRM?
You can improve your organization's overall performance by pairing a CRM with tools like EHR, EMAR, and billing software. Contact your vendor to discover complementary products.
3. Is CRM expensive?
Prices can vary, but CRM software is typically an affordable investment that can increase sales, and in the long run efficient use of a CRM can provide a return on investment that pays for itself. Reach out to potential vendors to receive personalized estimates for your community.
Strengthen Client Relationships with Eldermark
Eldermark's innovative software like our CRM can help your senior living organization meet its occupancy goals. Contact us today to schedule a personalized demonstration.