How the Right EMAR Software Can Help Reduce Medication Errors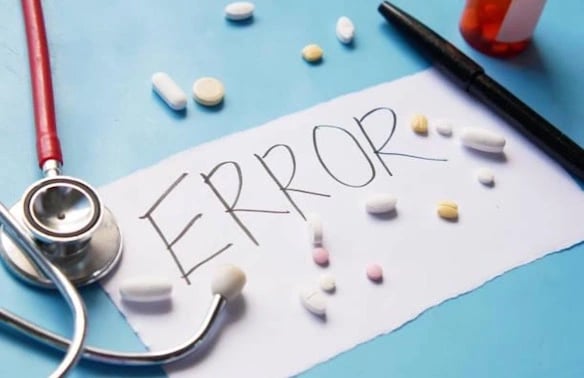 Cloud-based technologies continue to become more efficient, but while most companies deploy these platforms to optimize their operations and increase efficiency, the stakes are higher for the senior and assisted living industry. In this sector, new technology helps with more than just helping operations run smoothly; it's also about ensuring resident safety.
For instance, an Electronic Health Record (EHR), Electronic Medical Record (EMR), and Electronic Medication Administration Record (eMAR) are software solutions that focus on well-being and quality of care, and understanding the differences between them is paramount for any care home operator.
To illustrate that point, this article examines medication errors, why they occur, and how the right eMAR system can help eliminate preventable errors in senior living communities.
Medication Errors in Assisted Living Communities
Medication errors are, unfortunately, more common in senior care than in other sectors of the healthcare network. The reason is simple: 80% of older adults in the United States have at least one chronic condition and take a minimum of two prescription drugs a day. As the volume and frequency of medication regimens add up, though, the rate of medication errors increases.
Simultaneously, medication administration errors are more likely to cause adverse effects in older adults, ranging from discomfort to severe complications that could prove fatal.
These types of errors are include the following:
Incorrect dose
Incorrect route
Incorrect patient
Dispensing error
Expired inventory
Missed medications
Delayed administration
Mix-up of drugs that look or sound alike
How To Prevent Medication Errors
Preventing a hundred percent of errors isn't realistic, but it's still the goal of every senior living operation. At the end of the day, a senior living community can only flourish when safety concerns are met.
Let's consider three key ways your community can implement preventative measures to reduce the rate of errors.
Training and education: All staff (including administrators, PRN employees, clinicians, and anyone with medical passes) should meet the latest training standards to mitigate errors.

Standardized procedures: The more standardized a community's approach to medication orders, medical records, storing health information, and following care plans, the better your chances of reducing errors will be.

eMAR software: Using eMAR software is one of the most effective ways to

increase resident safety

in a senior living context. When properly integrated with other health systems, an eMAR will eliminate the vast majority of errors previously caused by lack of attention or information.
Talk to one of our experts to find out how to make your senior living community safer with the right eMAR system.
How eMAR Software Can Prevent Errors
For healthcare professionals, PRN employees, senior living operators, and admin staff, understanding how eMAR software can prevent medication errors is an all-important step before implementing it in your community.
Use barcode scanning to ensure the "five rights"
With an integrated eMAR, you can scan the barcode on the medication at every step in the process, from dispensing to administration. Digital scanning eliminates the vast majority of medication errors caused by oversight, carelessness, or lookalike and soundalike drugs.
The ability to scan medication adds an additional level of certainty that the right dose of medicine is administered via the right route to the right resident at every point of care.
Eliminate paper-based records
The time-consuming process of creating, updating, and organizing paper records isn't just an administrative nightmare but also a potential safety concern. Even something as simple as illegible handwriting or mistaking a hand-written eight for a six can have potentially serious consequences.
Implementing eMAR systems not only removes those concerns: It's also a tremendous time-saving tool that can streamline an operation's workflow and even help with things such as contact management.
Read more here on how senior living team's can see huge benefits to resident safety, compliance, and efficiency by going paperless.
Track and report errors in real time
Integrated, cloud-based eMAR systems are in a perpetual state of real-time monitoring. This is a big difference from traditional communication channels, which relied on phone calls or a prolonged ticketing process.
With eMAR, all warnings, notifications, and alerts are registered and reported immediately across the system. For instance, if a physician changes a resident's care plan, the entire network of authorized users is instantly notified and can make the necessary adjustments.
Analyze trends to provide actionable insights
The best eMAR systems use artificial intelligence and data analytics to study long-term trends and behaviors surrounding medication administration within a senior living community.
Trends analysis helps ensure adherence to safety protocols while providing action insights about business processes through forecasting techniques.
Case Study: Epiphany Assisted Living
Epiphany Assisted Living, a Minnesota-based senior living community, partnered with Eldermark to incorporate eMAR software with their existing EHR system. Here are the results from the project:
Epiphany has experienced a reduced rate of medication errors for three years running.
Built-in accountability features have enhanced resident and workforce safety.
Adopting eMAR has made it easier to show compliance requirements.
Workflows have improved, as staff no longer spend 10+ hours a month with handwritten records.
Eldermark | Senior Living Software That Works
The goal of every senior living community is to give residents a chance to engage with their community, stay socially active, and maintain robust physical and mental health.
It all starts with safety.
At Eldermark, we understand that resident safety is paramount, which is why our eMAR medication management software integrates with other systems from healthcare providers and pharmacists to provide holistic, dynamic oversight over the medication process.
With three decades of experience, our solutions are built specifically for the business of senior living. Designed by former senior living caregivers and operators, our comprehensive suite of software solutions provides everything from email marketing campaigns and customer support to record keeping, resident monitoring, and more.
Get in touch with one of our experts to talk about safety in your community and find out how Eldermark's senior living software solutions can help!