All the Ways Your Senior Living Community Can Go Paperless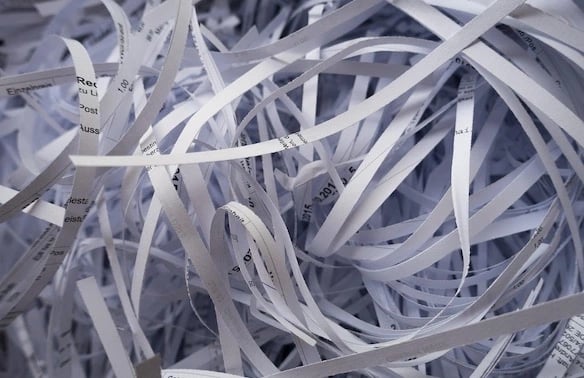 Managing physical paperwork can be a daily source of stress in a busy senior living community. Recurring tasks like photocopying documents and rummaging through overflowing filing cabinets eat up time and reduce productivity. And issues like a jammed printer or lost paperwork can send even the most patient office worker or caregiver's blood pressure through the roof.
New technology makes it easier than ever for senior and assisted living communities to switch to digital documents. With the right software, you can say goodbye to years of musty paper records and hello to efficient and portable digital files. But how can you ensure that electronic documents are right for your organization? This guide explores the numerous benefits of going paperless in business so you can make an informed choice.
Watch our webinar walkthrough of ElderForms Document Management and how simple it is for a senior living organization to take all their existing forms and digitize them.
Drawbacks of Paper Forms
Traditionally, care communities have relied on paper documents for every workflow. These organizations often use hundreds or even thousands of sheets of paper daily to create employee timesheets, resident health records, invoices, and other documents.
Paper-based processes have many drawbacks, including:
Greater Risk of Error. Messy handwritten documents can be challenging to decipher, increasing the risk of dangerous medical errors. Additionally, the use of paper documents makes it more difficult to continually update resident health records.
Inability To Analyze Data. The information you gather reveals

crucial insights

about your operations, residents, and staff. However, detecting and analyzing these patterns is nearly impossible if you need to sift through thousands of physical pages.
Inefficiency. Creating, storing, retrieving, and updating documents takes more employee time when using paper products. Also, tasks like troubleshooting broken printers and tracking down misplaced paperwork can grind staff workflows to a halt.
Limited Accessibility. Storing data in physical documents makes it more difficult for healthcare providers to access vital resident information. Say one of your residents falls in the middle of the night and gets rushed to the emergency room. If your staff needs to dig up their physical medical records and fax them to the hospital, they may receive delayed care.
Retention and Storage Requirements. Organizations must retain medical records and other documents for several years to comply with regulations. This paperwork takes up an enormous amount of office space, especially in large communities. Additionally, paper documents with sensitive information must be stored in secure locations, increasing costs.
Vulnerability. Catastrophes like fires and hurricanes can wipe out paper files instantly. If your organization doesn't securely store copies of forms off-site, you could lose years of valuable information if the unthinkable happens.
Benefits of Going Paperless
Making the switch to a digital system may seem intimidating, but many care communities have already embraced this change. Integrated software like billing tools, electronic health records, and point-of-care technology allows organizations to digitize and streamline all business processes.
Here are just a few of the advantages of becoming a paperless office:
Audit Trail. If your organization gets audited, you can produce the necessary electronic files and reports in minutes.
Automation. A digital document management system automates many workflows, such as pre-populating forms with resident information and sending updated electronic health records to providers. This feature saves employees time and decreases the risk of data entry errors.
Cloud-based Storage. Storing electronic health records and other files in the

cloud

allows authorized users and residents to access them anywhere. Plus, you won't have to worry about losing important documents if your care community experiences an emergency.
Cost Savings. Care communities that rely on physical documents need to invest a large amount of money into paper products, copy machines, printers, ink cartridges, toner, and other supplies. Switching to a digital system eliminates these expenses, saving business owners an average of $450 monthly.
Data Security. A digital document system helps communities comply with the

Health Insurance Portability and Accountability Act (HIPAA)

and other regulations by keeping confidential files private and secure. Plus, you won't have to worry about paperwork containing sensitive data getting stolen or not fully processed through the shredder.
Reduced Environmental Impact. Using

paper products in the workplace

contributes to serious environmental issues, including climate change, waste, and water pollution. Organizations can drastically decrease paper usage by switching to a more environmentally-friendly digital filing system.
Standardize Documentation. Digitizing files allows you to customize and standardize your forms to better meet your clients' needs. For instance, you could add a fall risk assessment to move in documents.
Streamline Move-In Process. A paperless system makes it easier to collect new resident data, generate invoices, and send digital copies of documents to family members. This streamlined process lets staff focus on building relationships with incoming residents instead of wasting time at the copy machine.
How Eldermark Helps Senior Living Facilities Reduce Paper
The digital transformation is at the tip of your fingers with Eldermark's innovative assisted living software. Our technology will help your small business drastically reduce the amount of paper you use and streamline workflows.
ElderForms Document Management allows organizations to replace tedious paper documents with custom online forms. This software lets you collect information and signatures from residents with the click of a button, saving time and increasing transparency. Additionally, ElderForms enables communities to quickly share important information with providers and family members through secure electronic channels.
ElderForms integrates with other senior living apps and popular tools like Microsoft Power BI for maximum convenience and functionality. For instance, Eldermark's Mobile Point of Care software lets caregivers document services electronically, while ServiceMinder EHR creates electronic health and medical records. Similarly, Eldermark's billing software creates digital invoices and enables residents to make online payments. These tools enrich the resident experience and ensure that caregivers always have the most accurate information.
Additionally, combining a paperless document system with ElderSmarts allows organizations to generate powerful data analytics. This software can assess performance indicators, identify trends, and increase productivity. For instance, you can use ElderSmarts to detect factors contributing to medication errors and to predict occupancy trends.
Contact Eldermark today to learn more about how ElderForms and other software solutions can help your community decrease paper waste, save costs, and improve performance.