The 3 Types of EHR Systems to Choose From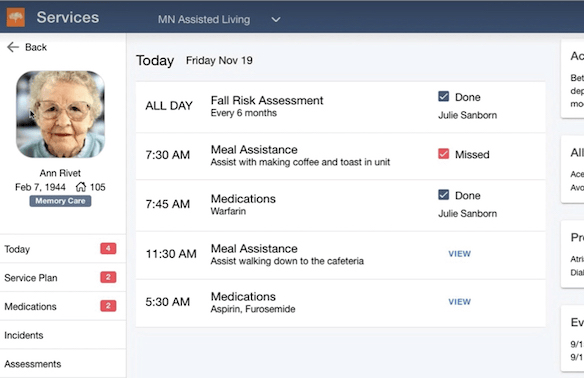 Faxes, handwritten prescriptions, and paper charts have become obsolete in many healthcare organizations. In their place, senior living communities have increasingly embraced electronic health records (EHRs). These digital files include health information for residents like allergies, diagnoses, medical history, and test results.
It's easy to see the appeal of EHRs. Care providers and senior living professionals can generate, update, and send resident records in real-time across secure networks. Senior living communities can choose from several types of EHR systems, including cloud-based, physician-hosted, and remotely-hosted EHRs.
If you're in the market for EHR software, you may wonder which system will fit your senior living organization's needs. This handy guide reviews the three main types of EHR solutions, and examines their advantages and disadvantages.
Cloud-Based EHR
If you use Google Drive or Dropbox, you're already familiar with cloud storage. This term refers to software applications that store and transmit data on dedicated off-site servers, known as "the cloud."
Cloud-based EHR like Eldermark's EHR solution differs somewhat from mainstream applications. These tools must comply with HIPAA regulations to keep electronic medical records confidential and secure. As a result, cloud-based EHR has extra layers of protection to ensure that only authorized healthcare professionals can access resident data. Get in touch for a free demonstration of our EHR software.
Pros and Cons of Cloud-Based EHR Software
Like all health information technology, cloud-based EHR has several benefits and drawbacks.

| | |
| --- | --- |
| Pros of Cloud-Based EHR Software | Cons of Cloud-Based EHR Software |
| Accessibility: Authorized care providers can access resident information from any location and using any approved device. This feature provides greater flexibility because staff members don't need to rely on on-site computers. | Internet Reliance: You must be connected to the Internet to access and update EHR data. This limitation may make this type of system unreliable for organizations with unreliable internet access. |
| Affordability: Many cloud-based EHR systems have low price points, so small practices and senior living communities with limited budgets can afford them. Plus, you won't need to hire IT professionals to maintain the software. | Ongoing Expenses: Typically, cloud-based services charge monthly usage fees. |
| Increase Efficiency: Cloud storage allows senior living professionals to quickly share resident medical information with pharmacies, primary care clinics, and other healthcare organizations. | Slow Upload Times: Occasionally, you may experience upload delays for huge files. |
| SaaS Features: Many cloud-based EHR solutions have additional Software as a Service (SAAS) features to streamline workflows. For instance, an EHR platform could have an integrated appointment scheduler and payment portal. | Limited Customization: You might have fewer options to customize your EHR software to suit your organization's unique needs, though some solutions are more flexible than others. |
| Secure Storage: If a disaster strikes your senior living community, you can rest easy knowing that your residents' valuable data is securely stored off-site. | Security Risks: While cloud-based EHR is generally safe, every company must work to meet digital security requirements to ensure that their databases are secure. |
Physician-Hosted EHR
Despite the name, physician-hosted EHR isn't limited to physicians. Under this traditional approach, all medical information gets stored in on-site servers owned by individual healthcare providers, senior living communities, or organizations.
Pros and Cons of Physician-Hosted EHR Software
Let's break down the advantages and disadvantages of a physician-hosted system.

| | |
| --- | --- |
| Pros of Physician-Hosted EHR Software | Cons of Physician-Hosted EHR Software |
| Infrequent Expenses: You'll need to spend a significant amount of money upfront to buy servers and other equipment. However, you won't have to pay monthly data storage fees to external EHR vendors. | Cost: This system can be expensive because providers must purchase the technology and hire staff to maintain it. For this reason, physician-hosted software is mostly used by large healthcare organizations with big budgets. |
| Greater Speed: On-premise servers can upload and share information marginally faster than remote servers. | Downtime: The organization must periodically shut down the computer system for short periods to install updates, which can be inconvenient for staff. |
| Increased Flexibility: You can choose the optimal combination of hardware and software to maximize functionality and interoperability. | Ongoing Maintenance: Health IT staff must actively monitor and maintain the system to keep residents' data safe. |
| Retain Data Ownership: The organization owns its medical data without interference from outside entities. | Possible Data Loss: If the organization shuts down, residents might be unable to access and transfer their medical data. |
Remotely-Hosted EHR
Remotely-hosted systems store data on third-party servers owned by EHR vendors. These solutions often use cloud-based storage, as discussed above. Other models include dedicated servers reserved for specific organizations and subsidized servers funded by the vendor.
Pros and Cons of Remotely-Hosted EHR Software
Here are a few factors to consider when researching remotely-hosted EHR systems.

| | |
| --- | --- |
| Pros of Remotely-Hosted EHR Software | Cons of Remotely-Hosted EHR Software |
| Fast Start-up: You can quickly start using remotely-hosted EHR without installing complicated hardware and software. | Internet Reliance: Because data is stored off-site, you need to use the Internet to access it. |
| Cost Savings: This system is less expensive than physician-hosted EHR software, so it's more affordable for small organizations. | Loss of Data Ownership: Organizations that use subsidized servers must surrender ownership of their medical data. This loss of control can lead to sticky legal situations. |
| No Maintenance Responsibilities: The server owner handles all updates and security issues, saving healthcare organizations time and money. | No Control Over Maintenance Schedule: The external vendor updates the server on their own schedule, which may result in inconvenient downtimes. |
Which Type of EHR System Is Right for Me?
Assisted living professionals have plenty of options when shopping for EHR systems. But how can you find the best senior living software for your organization? Look for an EHR solution with these convenient features:
24/7 customer support services

Automated features, like automatic medical billing for documented services

Cloud-based storage for off-site accessibility

Easy setup

Flags for drug interactions and other medical errors

HIPAA-compliant storage

Integration with other senior living healthcare solutions, such as

CRM

,

EMAR

, and mobile

Point of Care

software

Templates to reduce the time spent on documentation

Training resources, including vendor-taught classes, modules, and videos

User-friendly dashboard
Eldermark's cloud-based EHR offers the perfect combination of accessibility, affordability, and security. Our expert developers created this software specifically for senior living communities, so every feature is designed to meet the needs of industry professionals. You'll never have to worry about the safety of your residents' data or stress about server maintenance.
Get in touch today to schedule a free demonstration of our EHR software. And check out our customer testimonials to learn why the top senior living communities choose Eldermark solutions.